News JVTech Tesla Investor Day: Elon Musk promises "a fully sustainable energy future for the Earth"
We are obviously on the cusp of big news for Tesla! An Investor Day will take place next March and Elon Musk teased this event by announcing "a sustainable energy future for the Earth".
Reassuring investors, Tesla's new priority in 2023?
In 2023, the electric car could well enter a new dimension, despite the reluctance of certain manufacturers, such as Toyota or BMW. However, at Tesla, they are not about to put aside electric cars, for the simple reason that it is their main livelihood. And obviously, the American company intends to raise the bar on this exercise, because 2022 has clearly not been a long calm river for Elon Musk and his family., despite excellent sales figures. Last year, Tesla delivered 1,313,851 units, which allowed it to keep its place as the world's number 1 electric car ahead of the Chinese giant BYD.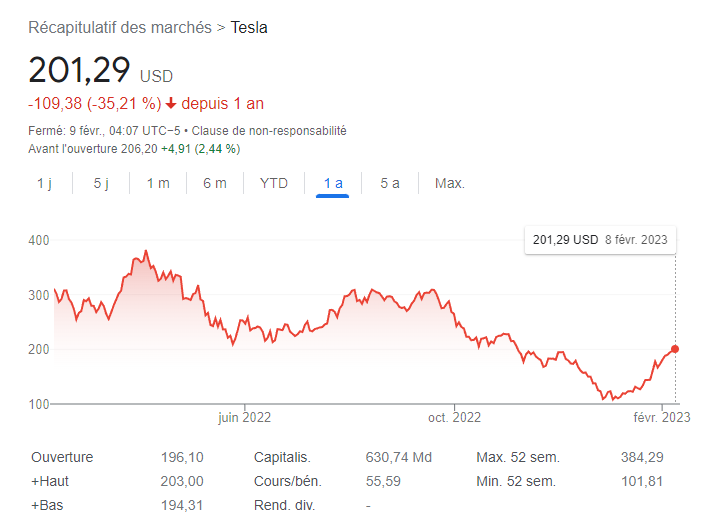 However, and as we explained a little above, the firm is not in its best shape, the fault of its CEO who made the decision to buy Twitter at the end of last year. This acquisition and the multiple decisions taken by Elon Musk thus resulted in a drastic drop in Tesla's share price.. Even worse, some investors are even becoming reluctant to work with the automaker. It is moreover to recover the confidence of the latter, thatElon Musk has confirmed Investor Day to be held on March 1 live from the Gigafactory in Texas.
Tesla: an Investor Day to inject new momentum
If you have been following the American manufacturer for several years, you are no doubt aware of the existence of the "Master Plan". This Investor Day will also be an opportunity to discover the third part of this plan, which was launched more than 15 years ago. There first part was revealed in a blog post in 2006while the second had been made public in 2016. Each of the two parts of the plan had enabled the firm to lift the veil on its ambitions and future major projects.
For this "Master Plan 3", Tesla obviously wants to open "the path to a fully sustainable energy future for Earth", as stated by Elon Musk, himself, in a tweet posted yesterday. A little earlier this year, we also had the right to an official press release from the manufacturer stipulating that the "Investors will be able to view our most advanced production line and discuss long-term expansion plans, Generation 3 platform, capital allocation and other topics with our management team. » Despite this information, it is still difficult to understand what Tesla really has in store for us this Investor Day. But if its CEO's goal is to disrupt Earth's entire energy infrastructure, we're likely to see some big announcements that could get a lot of headlines.