Game News Nintendo Switch: the remake of these two exclusives finally finds a release date
Last night, Nintendo held a highly anticipated Nintendo Direct: the opportunity to find out more about the manufacturer's upcoming releases, including Advance Wars 1+2 Re-Boot Camp. This remake of the two cult opuses finally holds its release date, trailer in support!
War… War never dies
Last night, the Nintendo Direct was held on the web to delight millions of fans: we saw the furiously awaited The Legend of Zelda: Tears of the Kingdom (as well as its collector's version), but also Pikmin 4 or even the announcement of GameBoy and GameBoy Advance games in the Nintendo Switch Online catalog. In the heap, we could also find Advance Wars 1+2 Re-Boot Camp, aptly titled remake of Advance Wars and Advance Wars 2, which has finally found a release date.
Without further ado, here it is: Advance Wars 1+2 Re-Boot Camp will be released on April 21, 2023 exclusively on Nintendo Switch. As a reminder, the game was originally supposed to land on the mobile machine on December 3, 2021 before being postponed to March 12, 2022. In the end, nothing happened since because of the War in Ukraine – war being the "main" theme " of the title, to Nintendo's chagrin – the release was finally postponed again… until then without a specific date. The shooting is finally corrected.
A new trailer has just been released, which can be found above, in our video player.
Advance Wars, the return!
Originally started on Nintendo in 1988, the Nintendo Wars saga gave birth to many episodes including Advance Wars 1 1 and Advance Wars 2: Black Hole Rising released respectively on GameBoy Advance in 2001 and 2003. Advance Wars 1+2 was also a compilation released in 2004!
This time, both titles return under the full remake umbrella, sporting an all-new art direction and updated graphics. It is recalled that the genre is that of turn-based action-tactics, with a system of boxes and a well-known depth of play.
We will therefore benefit from a gameplay redesigned to the taste of the day as well as local and, above all, online multiplayer: in short, enough to tempt aficionados and newcomers who would like to try the experience. Snettle on April 21 on Nintendo Switch, therefore.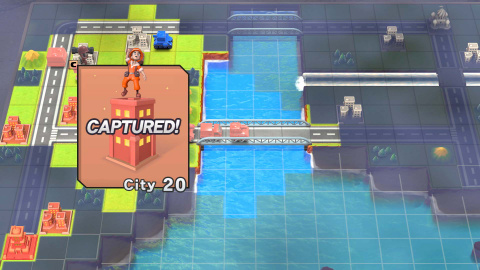 ---