News business Bandai Namco (Elden Ring): a new logo for 2022, players divided
There are sometimes minor changes for the players which cause, casually, small jolts: the logo changes of big companies are often part of it since they are all the same visible acronyms very regularly. Bandai Namco has just presented its new symbol …
Bandai Namco, or one of the powerful publishers of Japan
The powerful video game industry is dominated by large publishers who tirelessly vie for the lion's share. We thus find Activison, Electronic Arts or even Ubisoft there, then, in more precise niches, other firms such as Devolver Digital or Annapurna Interactive which manage to pull out of the game.
Bandai Namco, meanwhile, also holds its place among the powerful in the field with a big focus on Japanese games., although that does not prevent him from working on Western titles like Dark Pictures or Project CARS and even from being the distributor of Cyberpunk 2077 in Europe. Its great strength, on the other hand, is to be the publisher of multiple Japanese titles including most adaptations of manga and anime, from Dragon Ball to One Piece via the Jump Force cross-over or the Naruto games. In addition, SoulCalibur and Tekken is also him.
Band-ouch Namco?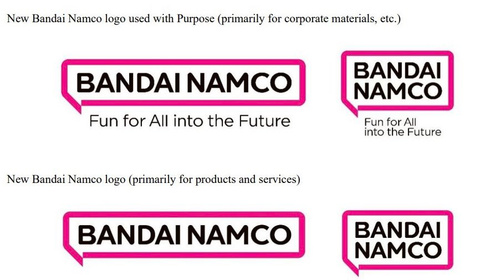 In short, all this to say that the famous orange logo is now known to all, showing itself to us at each launch of a game or trailer: only there, the company is ready to move on and has just presented its graphic revival. . Uncluttered, approaching a pink frame and the new slogan "Fun for all and into the future", the emblem contrasts drastically with the previous one.
For many, the pill is a little difficult to pass and many Internet users complain on the Internet, claiming that this is the logo of a bank or a dating site. Obviously, it will take a little time to get back into practice, which will inevitably happen at one time or another.
Is there anyone in the world who is normally made up who can claim that the new is better?

A little condescending I admit, but it's so bland, soulless, as simple as possible.

– Mister PIXEL 👾 (@MisterPxL) October 1, 2021
What do you think of this new logo, which will be definitively opted for by Bandai Namco from April 2022?