Game news Sonic: a MegaDrive version sold at a crazy price, the creator of the blue hedgehog wonders
Released in 1991, Sonic The Hedgehog is a legendary title in which the new SEGA mascot takes a direction totally opposite to Mario. Faster, more "rebellious", the character is known to all. A popularity which has just resulted in a record auction sale.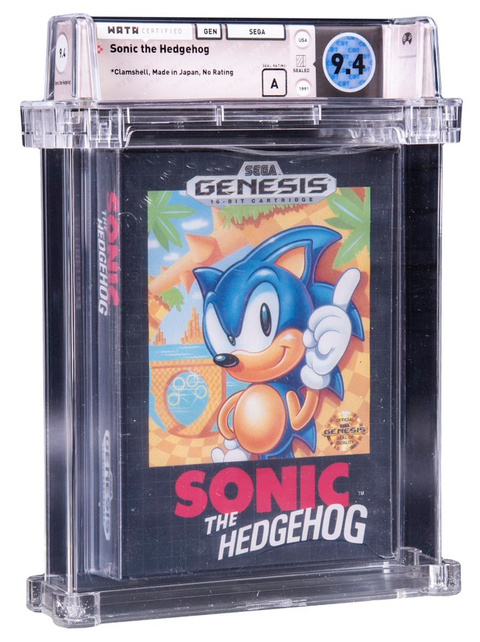 It is Goldin Auctions announcing via its Twitter account a copy of Sega Genesis (the MegaDrive here) of Sonic the Hedgehog, rated 9.4 / 10 by WATA Games, was sold for $ 430,500. A huge sum, which sets a precedent. Nintendo games aren't the only ones anymore to reach very high sums, and it is of the most expensive SEGA Genesis / Megadrive game. However, these auctions, which often take place at Heritage Auctions, have been creating controversy for a few weeks now because links between WATA, which evaluates the games, and Heritage Auctions. The wick, as Captain Web explained in JV l'Hebdo, was also lit by Pawn Stars show, in which a sale of a Super Mario game was allegedly completely rigged. The seller and the expert called by the show would be bounds up close, unleashing passions. Same Sonic creator Yuji Naka looks shocked and fear a scam:
That's a scam, right? I wondered if it was time for Sonic to reach a high.

— Yuji Naka / Yuji Naka (@nakayuji) September 21, 2021
Is it a scam? It's a scam isn't it? (…)
Faced with the controversy and the astonishment generated by this new sale, WATA Games released a press release in which the company defends itself from any scam and by refuting the words of Youtubeur Karl Jobst, who recently accused WATA of artificially inflating sales prices to generate speculation:
Wata Games is the trusted leader in the valuation of collectible video games, and we are honored to play a key role in this growing industry that we are so passionate about. We are honored by the support of the thousands of customers who trust us to provide an accurate and transparent assessment. The allegations in this video are completely unfounded and defamatory and it is unfortunate that Mr. Jobst did not contact us to give us the opportunity to correct them.
Via :

El Output

/

SpineCard