Game news Gran Turismo 7: 25th Anniversary editions unveiled, here is what they contain
Now dated March 4, 2022 on PS4 and PS5, Gran Turismo 7 will be accompanied by pre-order bonuses and two editions celebrating the 25th anniversary of the license, both in physical and dematerialized form.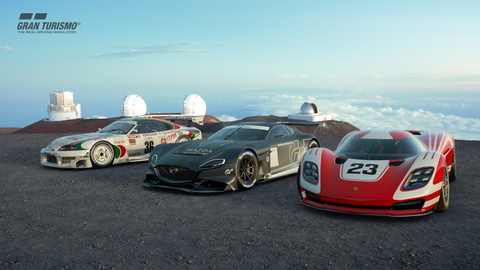 Still developed by Polyphony Digital, Gran Turismo 7 will have the heavy task of come compete with the Forza license, now divided into two sub-licenses: Motorsport and Horizon. After a short teasing, Sony unveiled the pre-order bonuses that will accompany each version of the game that will be purchased. Whether you choose the dematerialized version or physical version on PS4 or PS5, you will get the Toyota Castrol TOM'S Supra, the Mazda RX-VISION GT3 Concept (Stealth), the Porsche 917K Living Legend, and 100,000 credits to spend in-game.
We also learn that, as announced by Jim Ryan, CEO of Sony Interactive Entertainment, the switch from the PS4 version to PS5 in case of purchasing a standard version will cost 10 €. As for the two 25th Anniversary editions, they contain the following elements:
25th Anniversary Edition on PS5 and PS4 – Physical version (at retailers)
Includes the PS5 Blu-Ray and a download code for the PS4 game
A small box containing a steelbook
100,000 credits
Toyota GR Yaris in the colors of the specific country
30 Builders / Partner Avatars
The official Gran Turismo soundtrack
Toyota Castrol TOM'S Supra
Mazda RX-VISION GT3 Concept (Stealth)
Porsche 917K Living Legend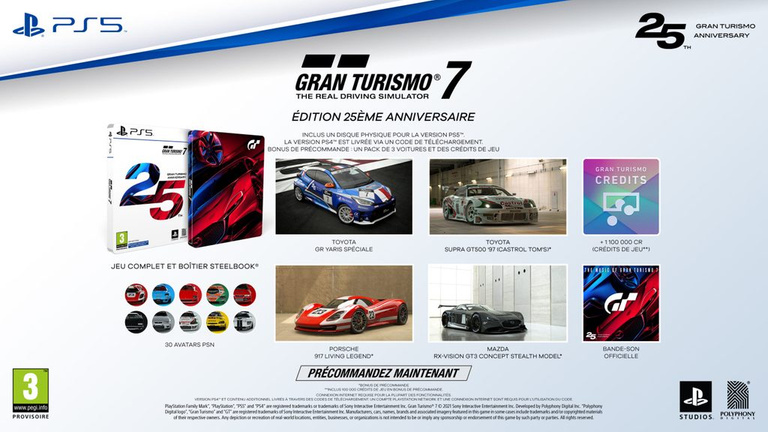 25th Anniversary Edition on PS5 and PS4 – Digital Deluxe Version (PS5 / PS4 – PS Store)
Access to PS4 and PS5 versions
1,600,000 credits
Toyota GR Yaris in the colors of the specific country
30 Builders / Partner Avatars
The official Gran Turismo soundtrack
Toyota Castrol TOM'S Supra
Mazda RX-VISION GT3 Concept (Stealth)
Porsche 917K Living Legend