News tip Genshin Impact, new banners: Kokomi and the Eternal Moonlight, our guide
The new Genshin Impact banners are released today Tuesday. Goodbye Raiden Shogun, and up to the other limited 5-star character: Kokomi
The two new banners, that of weapons and of characters, thus arrive tonight. As always, the character banner will feature 4 characters including a 5-star character, while the weapon banner will feature 2 5-star weapons, including a new one, and a host of 4-star weapons. So what are banners worth?
The character banner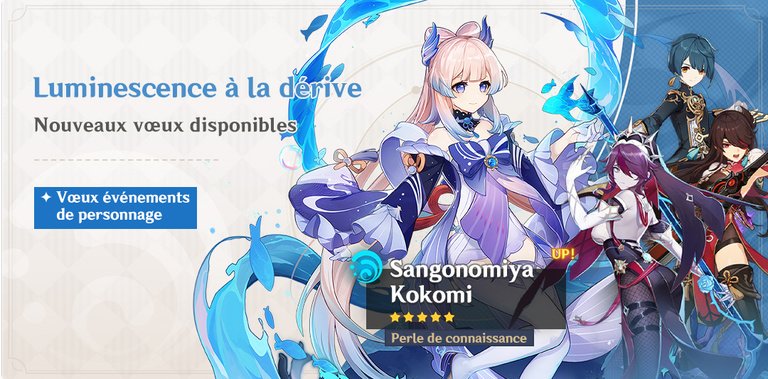 Kokomi is therefore the star of the banner. 5 star character Hydro, she's a healer that you may have encountered in the main story.
Rosaria is a 4 star character of type Cryo. it is correct, especially if you are looking for a second character Cryo to accompany yours (Eula, Ayaka …), and that you do not want to play Diona for that.
Beidou is a character Electro 4 stars. She is excellent and has perhaps one of the best ultimate skills in the game. We strongly recommend that you collect it if possible, it can be very interesting if you need a character. Electro in your team composition.
Xinyan is a character Hydro 4 stars. It is simply excellent, and is frequently featured on top teams for high level content.
To summarize, we end up here with a pretty good banner, especially for Xinyan and Beidou. The interest of the latter will however depend on your desire to recover Kokomi.
The banner of arms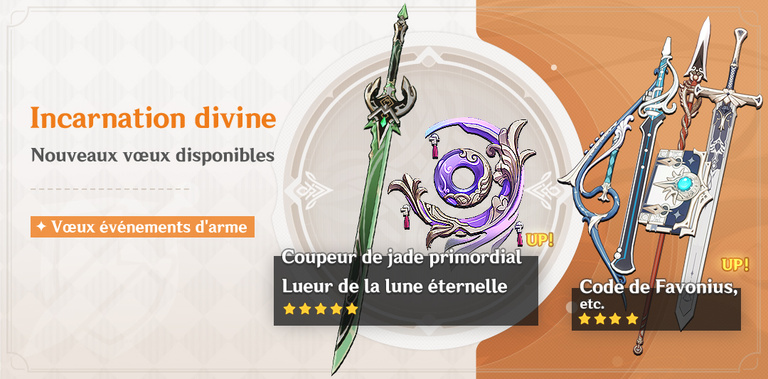 The new weapon, which we guess made for Kokomi is the following :
Glow of the eternal moon – Catalyst – 49.6% HP – 608 Base Attack
Increases the healing bonus by 10%, and the damage of normal attacks by a value equal to 1% of the maximum health of the character equipped with the weapon. For 12 seconds after using an elemental rampage, normal attacks that hit an enemy restore 0.6 points of elemental energy. Elemental energy can be restored once every 0.1 seconds in this way
And here's the other 5-star weapon:
Primal Jade Cutter – One Handed Sword – 44.1% Crit – 542 Base Attack
HP is increased by 20%. The character equipped with the weapon also gains an attack bonus equal to 1.2% of their max HP.
You are strongly advised to avoid this banner unless you REALLY want a 5 star weapon to go with it. Kokomi. And if so, at least wait for the calculations to see if this weapon really exceeds certain catalysts, like The story of the dragon hunters for example.
We meet very quickly for our opinion on Kokomi!