News hardware Nitro Kart: Oplite puts racing at the heart of your living room
Meet the French manufacturer OPLITE during the ADAC Simracing Expo 2021. The opportunity for us to discover a young and dynamic brand, which is developing internationally with innovative, accessible products, going well beyond automotive simulation . Our favorite of the show.
ADAC Simracing Expo is the annual meeting place for Simracing hardware and software manufacturers at the Nürburgring circuit. There are therefore brands such as Fanatec, Kunos Simulazioni (Assetto Corsa), Raceroom, and a good number of hardware integrators for the creation of static and dynamic simulators (on jacks), at prices that are necessarily inaccessible to the general public. The show is therefore often reserved for pilots and teams who see it as a solution for training, eSport teams, and more or less wealthy simracing specialists. Yet it is in this place of connoisseurs that the young Oplite brand, founded in April 2019 by Eric Thibault, came to rub its consumer solutions with the best.
A novelty that will change the market: the Nitro Kart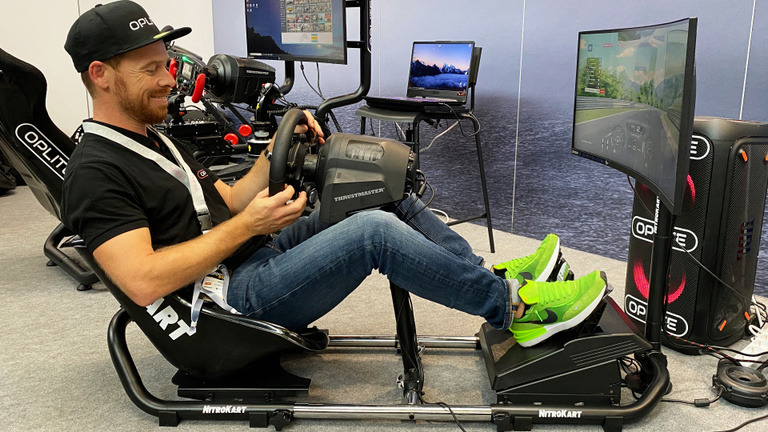 On the brand's stand, you can't miss it. The Nitro Kart may be compact, but it attracts attention and piques everyone's curiosity. The idea is simple: to offer a kart format chassis that adapts to adults and children alike. The kind of accessory that you can put in front of the TV to make a Mario Kart, a Gran Turismo, or a Dirt with the family. He is easy to set up and store from the top of its only 10 kg, does not clutter the living room even when it is fully unfolded, and can be adjusted very quickly to go from a 6-year-old to a tall adult. But Oplite has a little more ambition for its Nitro Kart as its creator Eric Thibault tells us:
It is more worth seeing the Nitro Kart as a solution for driving. The cockpit can be used as much for the family to have fun as it can follow the growth of children who want to improve their skills. It's a mini cockpit that has the ability to grow big.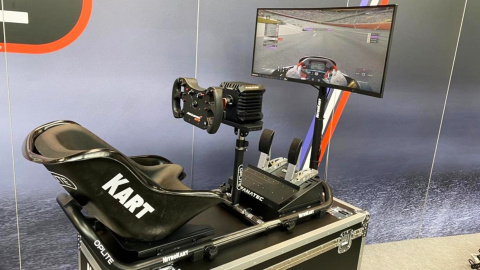 With a steel structure, a real fiberglass bucket, a reduction / booster (included) for small sizes, the cockpit is able to accommodate powerful steering wheels and professional pedals. We were able to try it out mounted with a Thrustmaster T-GT II and its 3-pedal crankset and even equipped with a Fanatec CSL DD with 2 Elite pedals. The result is great, it does not move and the sensations are very good. Eric Thibault assures us that the Nitro Kart readily accepts Fanatec DD1 and Simucube (the latter with adapter).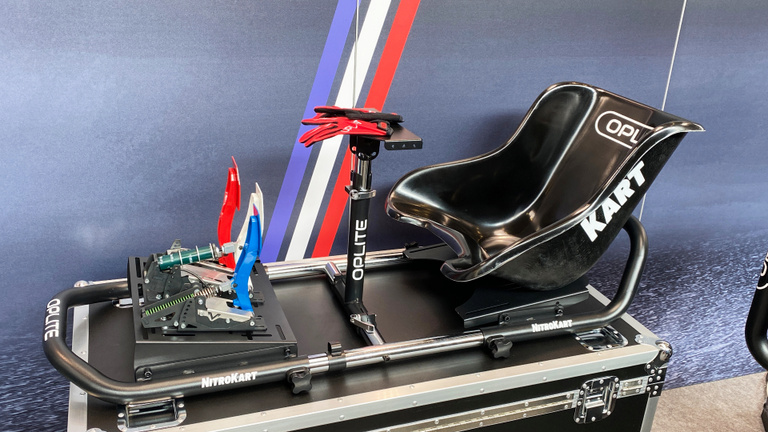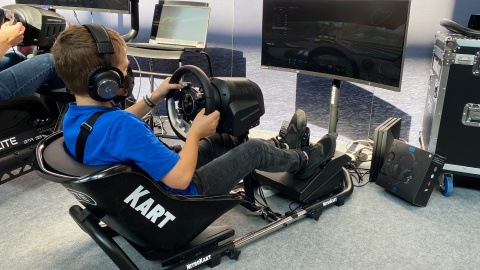 The young people at the show did not want to let go of the wheel, having finally found a model to their size, and the older ones (including yours truly) found good feelings there and, surprisingly, a real comfort of play. have also found a more than interesting solution for the development of moderately priced simulators for the training of young people. A reduction in costs and space that clearly caught the eye of the FIA. For our part, we would have liked to leave with the cockpit under our arm to offer you a preview or even a test, but the Nitro Kart is not yet available. It is nevertheless planned for an arrival in Europe in February, at a public price of 349 € TTC. An integrated screen support is also announced, as an option, at a price which remains to be determined.
The GTR S3 cockpit creates a new ecosystem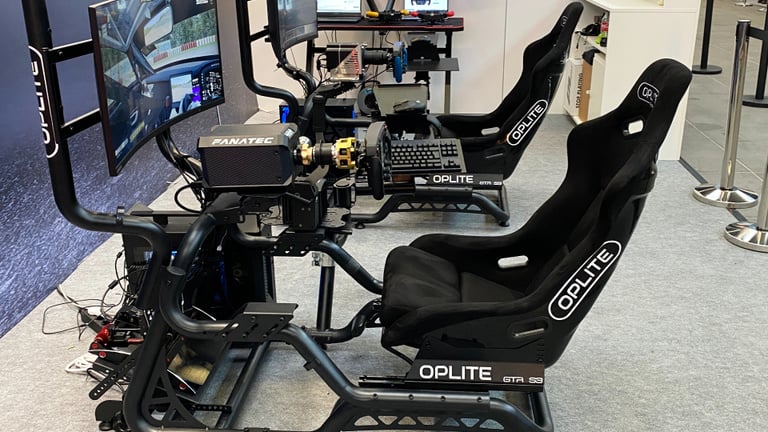 We got to see what will be the third iteration of the GTR chassis, the first product created by the company and the spearhead of the brand. In addition to a decrease in the center of gravity and a stiffening of the entire cockpit, with now a steering wheel support welded to the tube and support bars for the crankset, Oplite offers two large tubular pieces on each side to give total rigidity and allow the addition of accessories.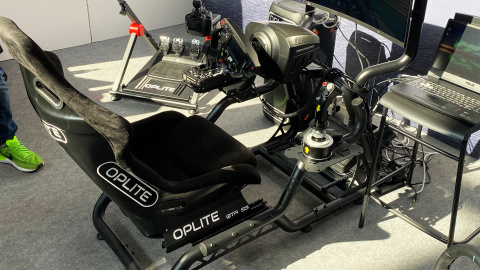 So we were able to try a new type of support for gear lever, hand brake, or even for the addition of a complete HOTAS. The opportunity to see that the GTR S3 will also be able to accommodate a Yoke and a rudder bar, just to open up completely to the world of flight simulation.
The price of this new chassis is slightly higher, to € 469 including tax for the public, and it will take € 69 for a pair of reinforcement bars which will serve as a basis for the accessories. These two products will be available from December on the brand's usual sales platforms (Amazon, LDLC, Fnac, etc.). Other options to come for this GTR S3, so a keyboard support on articulated arm that we could see, without the price or the availability being known yet.
Oplite continues to expand its market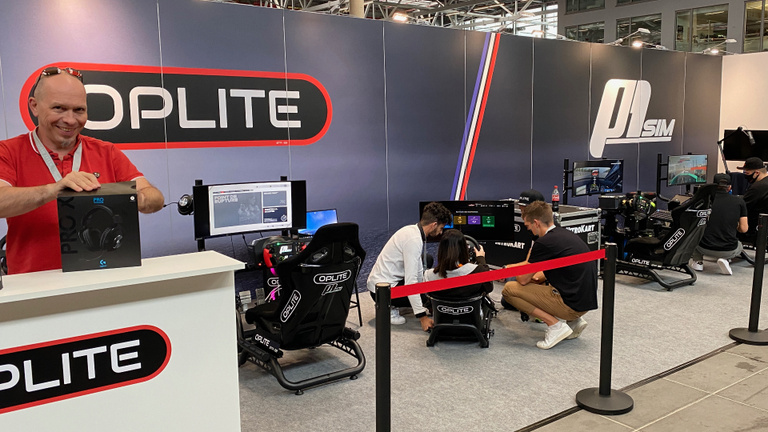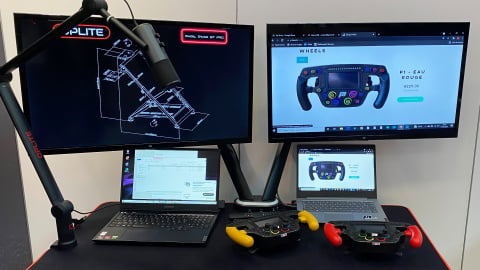 If the show was clearly dedicated to simracing, Oplite still took the opportunity to present its height-adjustable desk, the EPOS B20 Test microphone support: The easy-access PS4, PS5 and PC streaming microphone, and a dual-screen support / TV (up to 2×32 inches) offering rotation, viewing angle and movement of the two screens independently. We were even told that the brand was working on an innovative gaming chair solution. We can't wait to know more.
Oplite has had a very impressive start in France since its launch in April 2019, helped by a confinement that put many people behind a screen. From now on, Eric Thibault is thinking internationally, both in the filing of his numerous patents and in the marketing of his products. Oplite is therefore a French brand that must be followed closely and on which the world of video games can now count.
---
This page contains affiliate links to certain products that JV has selected for you. Each purchase you make by clicking on one of these links will not cost you more, but the e-merchant will pay us a commission.
Find out more.