News culture Batman The World: The vigilante travels the world in a new and international comic book!
This Saturday took place the Batman Day, day of celebration of the Black Knight. Fans around the world have paid homage to the character in their own way, while many artists have come up with their version of the hero.
But this Batman Day couldn't happen without a special release coming out. Since September 17, readers may turn to a whole new anthology, baptized Batman The World. Sold for around twenty euros, this unique book contains 184 pages of stories, created by artists and authors from 14 countries telling various stories influenced by the respective cultures of the participants, and taking place in their countries.
United States, France, Spain, Italy, Germany, Czech Republic, Russia, Poland, Turkey, Mexico, Brazil, China, South Korea and Japan have participated in this collection, which is offered in each region with classic coverage and alternative coverage made by artists. You can also see the French covers below. The set is introduced by a story imagined by Brian Azzarello and Lee Bermejo, in which Batman discovers that he can be useful anywhere in the world in bringing about justice.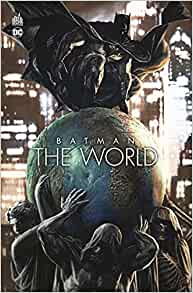 List of authors and cartoonists by country
Germany: Benjamin von Eckartsberg (screenplay) / Thomas von Kummant (drawings)
Brazil: Carlos Estefan (script) / Pedro Mauro (drawings)
Chine: Xu Xiaodong, Lu Xiaotong (scénario)/Qiu Kun, Yi Nan (dessins)
South Korea: Inpyo Jeon (script) / Jae-kwang Park, Kim Jung Gi (drawings)
Spain: Paco Roca (script / drawings)
France: Mathieu Gabella (screenplay) / Thierry Martin (drawings)
Italy: Alessandro Bilotta (screenplay) / Nicola Mari (drawings)
Japan: Okadaya Yuichi (script / drawings)
Mexico: Alberto Chimal (script) / Rulo Valdés (drawings)
Pologne: Tomasz Kolodziejczak (scénario) / Piotr Kowalski, Brad Simpson (dessins)
Czech Republic: Stepan Kopriva (script) / Michal Suchánek (drawings)
Russia: Kirill Kutuzov, Egor Prutov (screenplay) / Natalia Zaidova (drawings)
Turquie : Ertan Ergil (scénario)/Ethem Onur Bilgiç (dessins)
This page contains affiliate links to certain products that JV has selected for you. Each purchase you make by clicking on one of these links will not cost you more, but the e-merchant will pay us a commission.
Find out more.