Event news The Nacon 6 French League restarts with a BeKind vs. Striking maestria!
Recess is over! Rejuvenated by a summer break, the contenders for the Nacon 6 French League cup are back in the spotlight this coming back to school. The second chapter of the event started this week, and it was the BeKind and Maestria teams who got the ball rolling. The stakes are real, and the two competitors have shown it well by offering us enraged matches.
While the sizes BDS, Heroic and Vitality already have the finals in their sights thanks to their exceptional performances, the other teams entered in the tournament still have work to do to qualify. The clashes of the next few weeks will indeed decide who will take the fourth place finalist between Acend, BeKind, DeathroW, Helios Gaming and Maestria. The tension is palpable!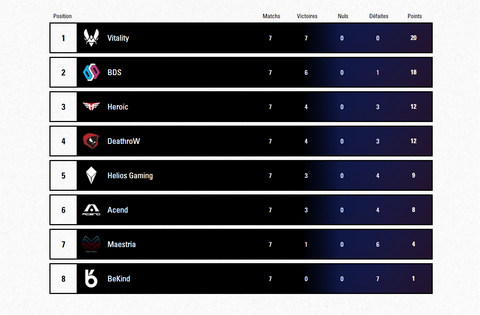 And since the "gauntlet" format was chosen for this important phase, Maestria and BeKind, respectively seventh and eighth in the standings, first took up arms on Wednesday. Professional players have released their best mastery of Rainbow Six Siege, with several notable replacements on the menu: Maestria side, we took advantage of the offseason to summon Whiteshark, DaReeal and Evilsenu. The BeKind team, meanwhile, brought in Wallkero and Riverz to counter their opponents!
Raised, tight, the level of play offered Scok and FuriouSG the opportunity to make more than one comment. The participants first gathered around the bombs placed on the Oregon map, and the members of Maestria immediately put pressure on their opponents. And this despite the flashes of the opposing Wallkero, who had not come to bay crows, as his triple kill proved! Morale was good with the French team following this first duel, concluded by a 7 to 3 in its favor.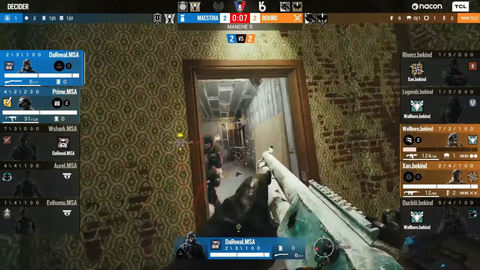 Alas for her, BeKind obviously had no desire to be taken for the victory! Its forces have recovered and turned the tide on the second map, Bank, with in particular a Wallkero still as lethal and a solid Xan on its supports. At the end of the second face-to-face, won over by BeKind with a 7 to 5, the outcome of this brawl in BO3 was outlined: we were going to decide between the two rivals tied. This was organized on Clubhouse, where despite great initiatives from all sides, BeKind maintained its dominant position until the victory.
So it was BeKind who came away triumphant from this meeting in three acts and rich in actions! The team is progressing in the gauntlet and will have the opportunity to compete against Acend on September 22. Unfortunately for Maestria, it's the end of the adventure and relegation to 6 French Challengers … See you next Wednesday at 8 p.m. on Rainbow Six France's YouTube and Twitch channels to know the rest of the story live, and on social networks with the hashtag # R6FL to support the players!