News hardware Xbox Series: New Expansion Cards Coming, Date, Price & Capacity
Games are taking up more and more space, that's a fact. So perhaps expanding the storage space of your Xbox Series X or S is of particular interest to you: good news, 500GB expansion cards have just been seen.
In the middle of the storage expansion of new generation consoles, Microsoft was the fastest with the marketing of Seagate cards : very easy to use since it is enough simply to plug it into the back of the beast, on the dedicated port, this is a very practical tool allowingt add 1TB of SSD easily. For some, it changes their life. Alas, here it is: this very beautiful object, as minimal as it seems visual, has a price and that is salty. € 249.99, this is a bit too much for many players who are therefore content to stay on the original hard drive.
500GB seagate cards at reduced prices
It was nevertheless without counting on the will of the manufacturer to propose several alternatives. In a podcast in October 2020 already, Jason Ronard of Xbox confirmed that "Multiple options of different sizes would be offered over time" : as advanced by our colleagues from Xboxsquad, Seagate 500GB expansion cards have just been spotted.
These were first listed at a store, before being listed again a few hours later at Micromania. The reseller posts a selling price of € 154.99 with a release date set for November 14, 2021: It goes without saying that all eyes are now on Microsoft for formalization in due form, but a priori, the information is almost proven.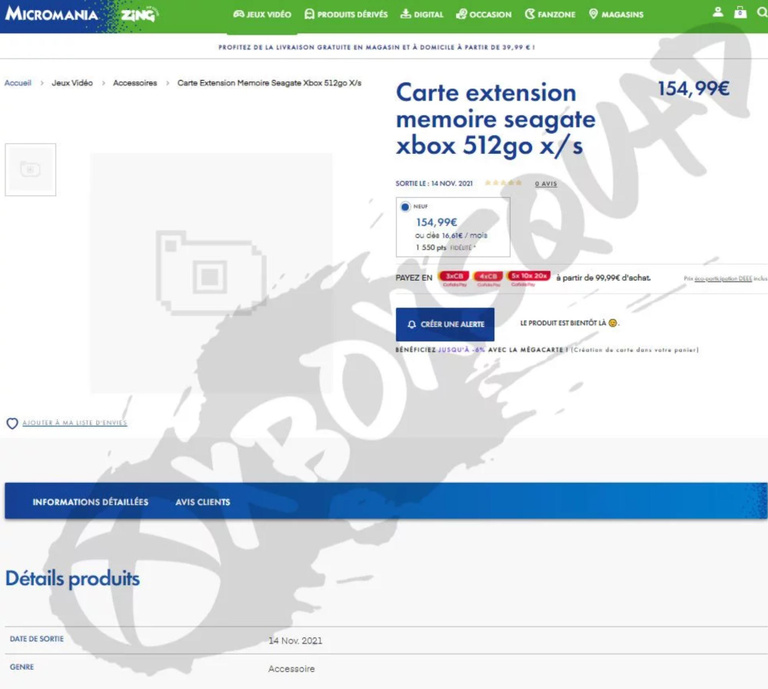 The PS5 is also doing it
This exactly coincides with the recent major update of the PS5 which allows, finally, to extend the storage by implementing a very precise internal SSD : if handling is clearly less practical – the console must be dismantled to integrate the precious object into it – all the more so as precise specificities are required (an M.2 NVMe PCle Gen4 x4 format with solid performance), however, it is possible to choose the storage size of your choice, between 500GB and 4TB, the only limit being that of the portfolio. Moreover, we have compiled a list of the most interesting offers on this subject.
---
Source : Xboxsquad.fr
---