Game news Minecraft: a built tree in the game, a planted tree in real life!
Visibly indefatigable, Minecraft is full of ideas to make people talk about it and to offer sometimes very ambitious operations, even in favor of culture. Today, Microsoft unveils the #PlantForLife universe, allowing players to take action against deforestation by planting trees… but for real.
Microsoft France is unveiling a very beautiful operation today: hand in hand with the Yves Rocher Foundation, the famous Mojang game has just opened. a brand new space called "Minecraft #PlantForLife" with a simple and more than laudable goal: to take action against deforestation. To do this, the means deployed will be concrete since every tree planted virtually will be planted in real life too, within one of Yves Rocher's French sites.
An ambitious ecological operation
As the trailer above explains very well, #PlantForLife will feature three worlds. The first will be the plotworld, a gigantic space where we can create our tree with the wire of our imagination and the land allocated, namely a plot of 15 blocks by 15 on the ground and 20 in height.
Once your botanical work is completed and validated by a moderator, it can appear in the second world, the forest, where all the players' trees will be exposed, that is to say a maximum of… 100,000 The result is likely to be indeed impressive.
Finally, the museum will act as the third segment. More contemplative, this one will offer a photo exhibition artists Brent Stirton, Phil Hatcher-Moore and Catalina Martin-Chico in addition to three mini-games located in France, Ethiopia and Ecuador, all powered by the Yves Rocher Foundation.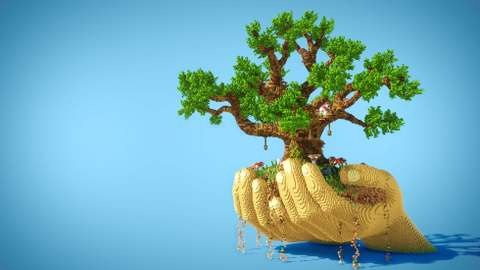 The server dedicated to #PlantForLife is open and already accessible. To access it, go to Minecraft Windows 10 Edition, Minecraft Java or Minecraft Pocket Edition, enter "Plant for life" as the server name and use the address "mc.plantforlife.fr". A video specially designed for this is available below. Finally, be aware that a Discord server has also been opened for the occasion, which is accessible at this address.
A very good initiative!
---