Game news Forza Horizon 5: a playable demo to expect? Developers clarify the situation
Forza Horizon 5 is undeniably one of the very big games of this end of the year and the wait for it is more than important. Hence the question for many players: will there be a playable demo, just to get the hang of it? Playground Games has an answer… and it won't be particularly appealing to gamers.
Forza Horizon 3, Forza Horizon 4 or even Forza Motorsport 7: the automotive saga has accustomed us to free playable demos before the launch of its various opus, and this for our greatest happiness. With this in mind, many therefore expect thata similar policy be applied to Forza Horizon 5, next episode which will park on Xbox in November. Playground Games, the British studio behind the development, has unraveled the mystery from the series' website.
bad news for the Forza Horizon 5 demo
It is indeed from the official Frequently Asked Questions of the game that we learn … that no playable demo is planned for Forza Horizon 5. Unfortunately, no justification is given for what contrasts drastically with the previous chapters: we imagine that keeping the release date of the final game is already a real challenge for developers, battered by the covid-19 crisis and the problems due teleworking (Battlefield 2042 has just been postponed for a month for these exact logistical concerns). Maybe the gestation of a playable demo would have required too many resources for not enough fallout, especially since the game will be offered automatically in Xbox Game Pass whose number of subscribers continues to climb.
Forza Horizon 5, a damn ambitious game
Ambitious, yes, it's probably the term that best fits Microsoft's next baby. With a superb plastic and a very particular thoroughness, Forza Horizon 5 will take the player in a watered down virtual Mexico, dotted with regions with very different climates and environments ranging from the city to the desert, through the jungle or the snow-capped mountains.
In addition, the title will offer a very generous number of cars: more than 400 cars will be offered at launch, which can be customized and falling within very specific genres. City cars, supercars, trucks, 4x4s and more, the cast looks promising and will show off in a world that relies heavily on the connection between players. Forza Horizon 5 will indeed be a community game, mixing solo and multiplayer with two watchwords: fun and fluidity.
Suffice to say that we hope not to be disappointed: to get to the bottom of it, see you on PC, Xbox One, and Xbox Series X | S on November 9, 2021.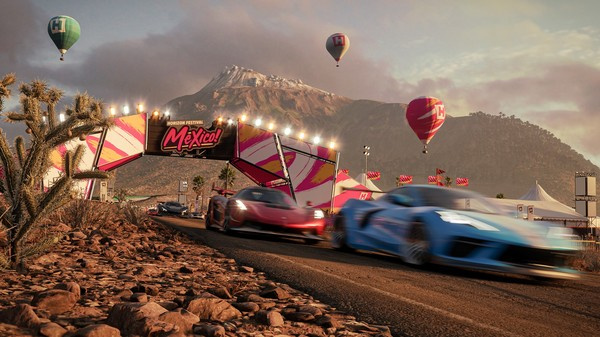 ---
Source : Forza official website
---