Game news Destroy All Humans! 2 Reprobed will invade Earth in 2022
Teased last February and announced a little too early by the official PlayStation account, the remake of Destroy All Humans! 2 was officially unveiled at the just concluded THQ conference. So we find the alienated Crypto 138 in a crazy adventure that will take him from San Francisco to Tokyo. This new version designed for new generation machines also has various improvements.
Like the remake of the first Destroy All Humans! – Remake released last year, Destroy All Humans! 2 – Reprobed is a revised and corrected version of the adventures of Crypto 138 initially released in 2006. This means that the story and the game design remain largely unchanged, but that the technique is completely dusted off. To convince us of the graphic result, THQ presented us with a pre-alpha build upstream of the conference. allowing us to see the efforts made to make the game more shimmering. What we can say is that Bay City (San Francisco), Albion (London), Takoshima (Tokyo) and Tunguska (USSR) are getting a completely satisfactory visual facelift. The special effects are numerous, the viewing distance is particularly good, and the destruction of buildings is more precise.
For those who do not know the goal of the game, the Destroy All Humans series! puts the player in the big head of Crytpo and his clones, aliens whose mission is to destroy humanity. To accomplish this objective, they have a host of weapons, telekinetic powers, and destructive flying saucers. In Destroy All Humans! 2, Crypto is green with anger as he wants revenge for the destruction of his mothership, detonated by a nuclear missile launched by the KGB. Even though we couldn't see it working, co-op mode will be back.
Destroy All Humans! 2: But why is Crypto so mean?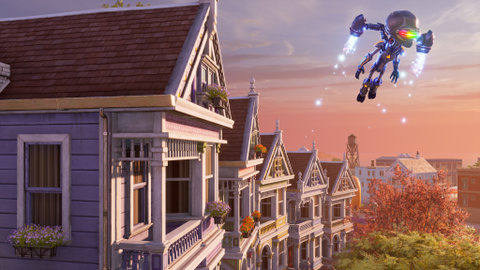 In this remake, Crypto carries around with eight weapons on him. Four of them come from the first title (Zap-O-Matic, Anal probe, Disintegrator Ray and Ion Detonator) while the remaining four are unique to Destroy All Humans! 2. The development team is taking advantage of this new version to correct certain elements which, in their opinion, were not satisfactory. This is the case with the Dislocator, a weapon capable of sending an unfortunate victim in random directions. Faced with the lack of effectiveness of the object, the game designers first thought of removing it. But following a wave of protest from different people at THQ, the studio finally decided to keep it and make it more enjoyable to play. The saucer gene blender is also experiencing a subtle upgrade, since it is able to suck several humans at the same time. According to the developers of Black Forest, other abilities will become more effective, such as Free Love and Psychokinesis. What to help Crypto, perhaps, has less to be marked by the weight of the ages.
Destroy All Humans! 2 Reprobed is slated for release on PC, PlayStation 5, and Xbox Series X / S. It is announced for 2022.