Good plan news PS5: The collector of a platform game classic on sale
If you are a fan of the first hour, the continuation of the adventures of the PS1 opus returns on PS5! The collector is available at a great price, take advantage of it.
A homecoming for fans
The first installment of this license is one of the cult titles of the PlayStation universe and more generally of the video game industry. Oddworld is a special game, with a community of nostalgic fans. This new opus gives new players the opportunity to enter the universe developed in the 90s during the PS1 era.
The continuation of the adventures was released on PS5 recently and the collector of the Next Gen version benefits from additional restockings with the added bonus of a nice little reduction!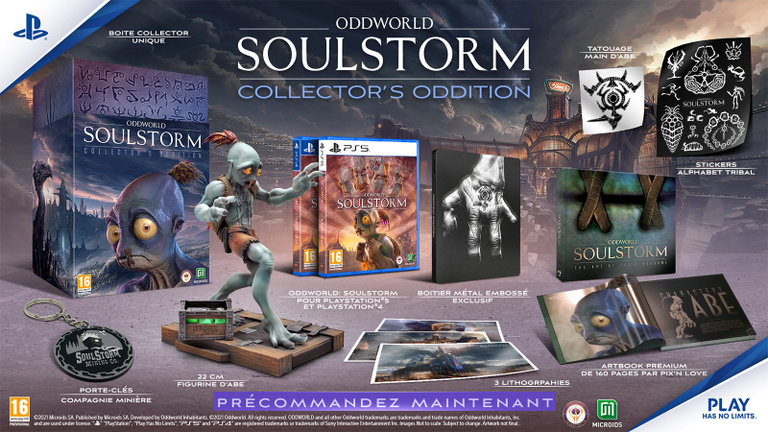 The Oddition Collector includes:
A collector's box
Oddworld Standard Edition: Soulstorm for PlayStation 4 or PlayStation 5
An exclusive metal case
A 22 cm figurine with the effigy of Abe, hero Mudokon in spite of himself
A 160-page premium artbook produced in partnership with Les Éditions Pix'n Love
A unique keychain
Three lithographs
A sheet of Tribal Alphabet stickers
A temporary tattoo imitating that of Abe's hand
What you need to know about Oddworld Soulstorm
Oddworld : Soulstorm Resumes immediately after you defeat Molluck The Glukkon, the game's hero Abe finds himself destitute in the desert with 300 emancipated Mudokons. They hope to find something to help them survive and continue their journey.
Abe is one of Molluck the Glukkon's many slaves! The latter has a dark plan of turning the whole species into food! He decides to escape from this hell by saving his people from the enslavement of the Mudokons. Freed, but hunted down, Abe and his siblings find refuge at Monsaic Lines, a land of welcome for free Mudokons. However, the respite is short-lived! The terrible Mullock shooters find their tracks and invade the scene without warning. It is in this panic that begins the new adventure of Oddworld: Soulstorm!
In this SF universe, the license rhymes with humor and tragedy like few other franchises in the industry. On the gameplay side, early fans will find the famous mechanics mixing platform, infiltration and reflection in a 2.5D view.
Abe will have to show great discretion thanks to his psychic powers which allow him to bypass any obstacles that stand in his way.
Among the novelties of this opus, a formidable crafting system allowing to create gadgets and various useful trinkets to knock out your enemies. But don't forget to free your fellows! Indeed, dozens of Mudokons are waiting to be delivered and taken to safe places!
This page contains affiliate links to certain products that JV has selected for you. Each purchase you make by clicking on one of these links will not cost you more, but the e-merchant will pay us a commission.
Find out more.