News culture Pokémon 25: the album with Post Malone, Louane and Katy Perry will be released soon
Born in 1996 in Japan, the Pokémon license is celebrating its 25th anniversary this year. For the occasion, several things have been put in place, including promotional cards, new goodies and clothing lines. On top of all this, a special album was announced.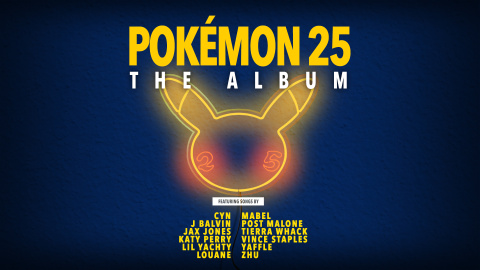 This album, we have been talking about it since the presentation of the first single and the song Only Wanna Be with You (version Pokémon 25) from Post Malone. In May, it is Katty Perry who presented Electric, the album's "flagship" song, then it was Vince Staples, Cyn, Mabel, J Balvin, Lil Yachty, Jax Jones and Sinead Harnett, Yaffle, Tierra Whack, ZHU remixes and the release of the Louane song. Now that the introductions have been made, The Pokémon Company, Capitol Records and Universal Music Group inform us that the full album, titled Pokémon 25 : L'album, will be available on October 15th, and that it can be pre-ordered on Apple Music, Spotify, Target, iTunes Store and Amazon Music for ten euros.
I've always been a Pokémon fan, and I jumped at the chance when I was offered to be on the album. I love the track I recorded called "Believing" and hope it inspires my fans to pursue their dreams, says Lil Yatchy

P25: Music has been an amazing adventure where we have been able to collaborate with many talented artists to help us celebrate 25 years of Pokémon. As the countdown gets underway to the release of Pokémon 25: Album, the culmination of this year-long adventure, we can't wait for Lil Yachty, Tierra Whack and Jax Jones to join in the fun and add to this. compilation their new Pokémon-inspired songs, added Colin Palmer, Colin Palmer, vice president of marketing for The Pokémon Company International.
Pokémon 25 Track List: Album
Katy Perry – Electric
Jax Jones – Phases (avec Sinead Harnett)
Mabel – Take It Home
Lil Yachty – Believing
J Balvin – Beware
Before – Wonderful
Vince Staples – Got 'Em
Louane – Game Girl
Tierra Whack – Art Show
Post Malone – Only Wanna Be With You (version Pokémon 25)
Yaffle – Reconnect (feat. Daichi Yamamoto & AAAMYYY) *
Mabel – Take It Home (remix de ZHU)
Before – Wonderful (remix de ZHU)
Vince Staples – Got 'Em (remix de ZHU)
To read also