Game news PlayStation Store: Discover the richness of Tales of Arise, the J-RPG phenomenon!
Heralding the heyday of Japanese RPGs for over 25 years, the Tales of series is now considered a benchmark for millions of gamers. For its 17th episode, Bandai Namco hits hard with an exceptional adventure called Tales of Arise!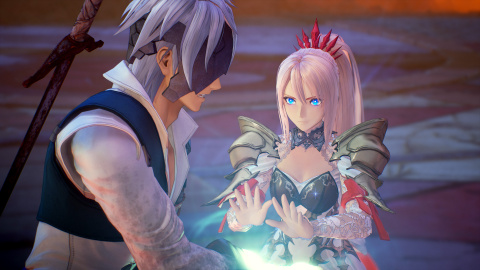 The story of Tales of Arise takes place between two opposing nations: Dahna and Rena. The first is in a relatively underdeveloped state of development, still bathed in a medieval atmosphere, and the second benefits from a very marked technological advance. This disparity allows Rena to gain the upper hand over Dahna and exploit its resources and inhabitants. It is in this context that Alphen emerges, an amnesiac warrior who finds himself embroiled in an extraordinary adventure., punctuated by precious encounters!
On the gameplay side, the Bandai Namco team has modernized the fundamentals of the series by offering an action-RPG with intense and technical clashes. Chain combos, supplant your enemies and use your Bonus Strike to defeat them permanently! The combat system has therefore been updated, while the vast universe offered to our heroes is incredibly rich. There you will find exciting quests that will cause Reniens and Dahniens to come together to change their destiny and that of this world!
Want to join Alphen, Shionne and all their friends in this fantastic quest between Dahna and Rena? So don't wait any longer, find now Tales of Arise sur le PlayStation Store at a price of € 69.99 ! Note that a purchase of this digital version grants you access to the PlayStation 4 and PlayStation 5 editions.
Find Tales of Arise on PlayStation Store for € 69.99!