News tip Minecraft Ice & Fire: a "Dragons" mod causes a sensation and transforms the game, how to access it?
The sprawling content and creative freedom that Minecraft offers made the game an ever-popular staple almost ten years after its release. The Ice and Fire mod allows you to populate your world with dragons and we detail it below.
The content that can be created in Minecraft seems limitless, only constrained by the extent of your imagination to stack and place blocks in your world. From Journeymap to Twilight Forest via Galacticraft, the game developed by Mojang offers unprecedented freedom of customization.
One of these latest mods is called Ice and Fire. The mod created by Raptorfarian and Alexthe666 gives you access to a whole new ecosystem of mythical and legendary monsters and animals, which will radically change the way you approach the game. To discover in the video below: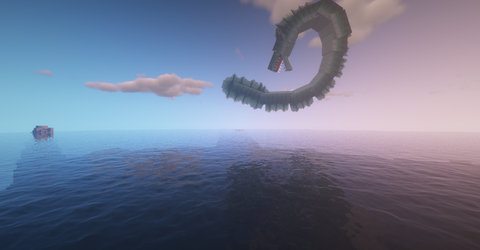 The description explains that "For hundreds of years, dragons have roamed the lands of the Known World. They are not mere plagues or threats, but the main cause of death for many people. Only the bravest can kill a dragon. Even fewer are able to tame one." Follow this link to download the Ice and Fire mod.
Within this mode the dragons are of two different types: fire and ice. The first ones breathe fire and populate most of the habitable world of Minecraft. As for them, ice dragons are found in the coldest parts of the world and freeze their prey. In recent days, the lightning dragon has appeared. This nocturnal creature is able to throw lightning bolts to kill its prey.
The Ice and Fire mod also contains many mythological creatures, such as goblins, cyclops or gorgons.
Summary of our complete guide to Minecraft