News tip Deathloop, walkthrough: Our 12 best tips for getting started on the game!
Deathloop propels you through a time loop over a single day. You play as Colt, whose function we will keep silent in order to avoid any spoilers, who seeks to break this endless cycle. In order to get there, you will need to successfully kill the eight Visionaries before midnight otherwise the loop will resume in the early hours of the morning. Colt being, almost, the only person to realize that this day is endless, it will give him a definite advantage to reach his goal and solve this puzzle.
Edited by Bethesda Softworks, browse this FPS sprinkled with puzzle-game using our 12 tips to get started. How does the loop and death system work? Where can I find good equipment from the start of the game? Or how do you keep that precious equipment from entering each loop? Find on this page of our complete guide, 12 of our best tips to get started on Deathloop.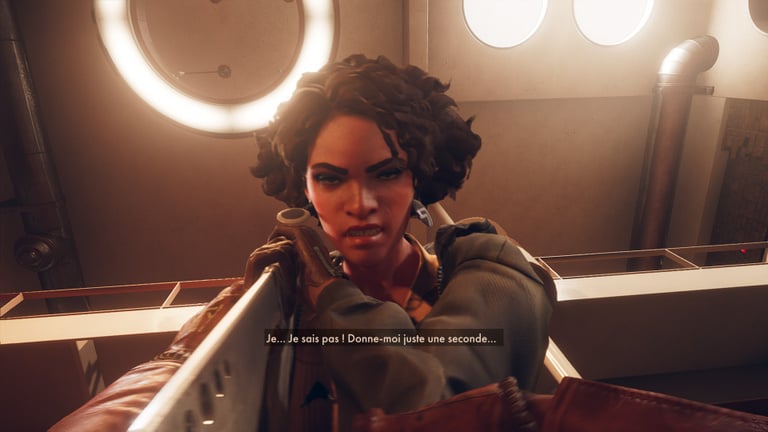 The longest day
The first part of the game takes place as a tutorial. You will not have a choice of areas to visit and you will have to conform to the path in front of you. This does not in any way prevent you from searching every quarter from top to bottom. You will thus find a whole bunch of clues which will serve you later in the following loops and it will allow you to familiarize yourself with the mechanics of the game.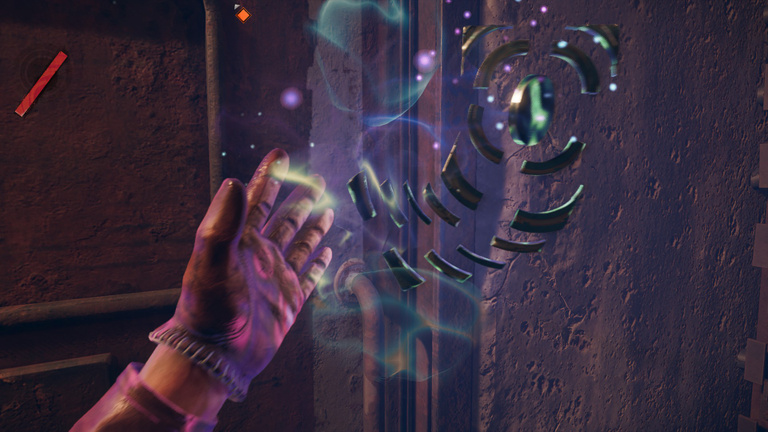 The wisdom of age
Every time you find a clue, it will come up in your journal. You will remember each of them between each loop. This is what will allow you during your following loops to thwart certain mechanisms, arrive at the right time for an event, know certain lock codes in advance, etc. The more clues you collect, the easier your next loops will be. Once a code is known, you will also be offered to enter it quickly rather than entering it manually.
Some of these clues speak of very specific events and only accessible at certain times of the day. The time at which you can investigate is often indicated in the diary.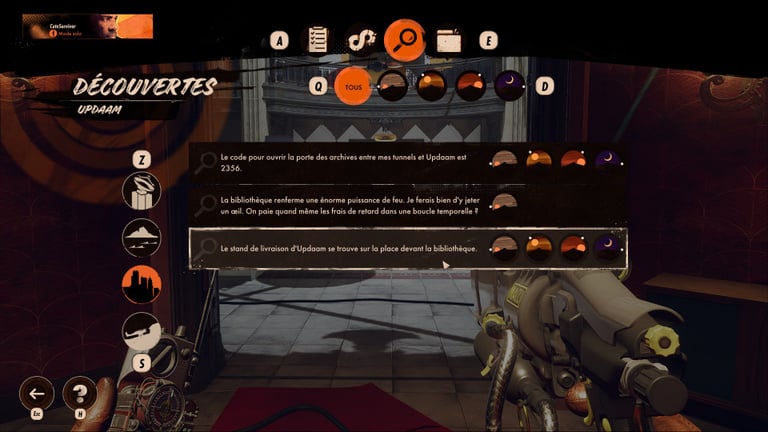 Four quarters, sixteen maps
Although you can only visit four different neighborhoods of Blackreef, these change radically depending on the time of day you go there but also depending on the actions you have done earlier in the day. Sixteen cards are therefore offered to you and which you can explore to unravel their mysteries. In order to change neighborhood, you can simply go back through the tunnels.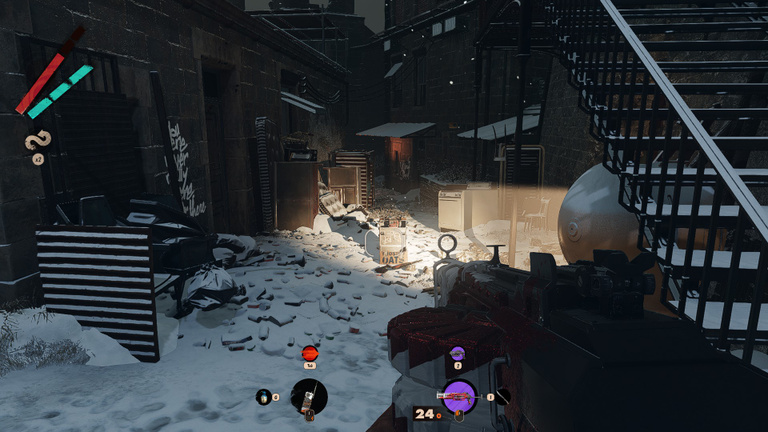 Back in the early morning
On the island of Blackreef, you will inevitably come back in the early morning unless you can break the loop. Dying or staying overnight will send you back to morning at the start of the loop. You will remember everything you have done and discovered. What will not be the case of the inhabitants of the island, except Julianna. Starting over will lose all of your gear, unless it has been infused, but we'll get to that below.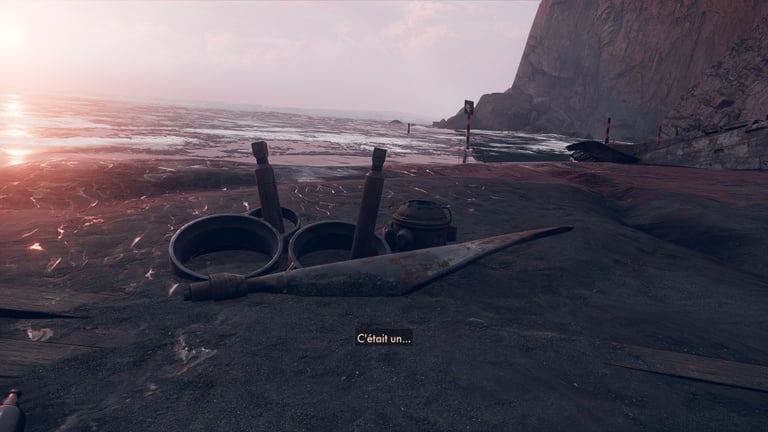 Invader
Julianna, one of the Island's Visionaries, is like you. She remembers every curl, and has been doing so much longer than you. If a Visionary is available in the neighborhood where you are now, Julianna has a chance to appear and chase you down to try and kill you. You will be informed of its presence directly and it will block access to the tunnels allowing you to travel from neighborhood to neighborhood.
You can either use your Hackamajig to unlock the tunnels and run away or face him. Be careful though, she is fast and aims pretty well. We recommend ranged combat rather than frontal at first. When she dies, she will leave on the ground a module power or, later, a mod enhancement.
Take into consideration that Julianna can be played by a player from anywhere in the world, by one of your friends or just by the AI. You can set this in the options menu according to your preference.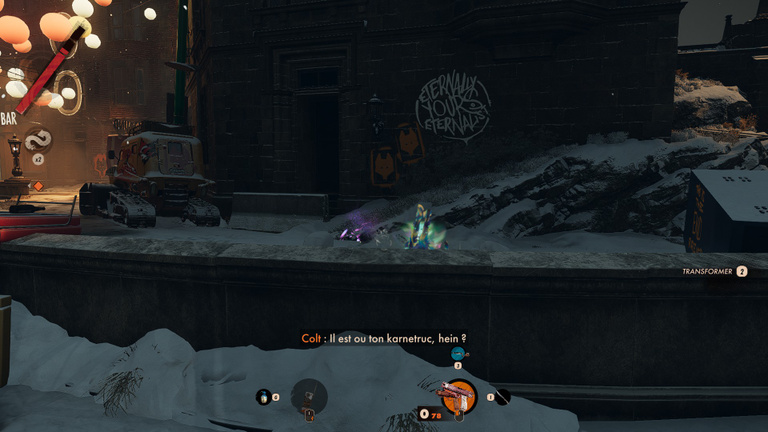 Hackamajig
From the start you will have access to the Hackamajig, a device allowing to hack various systems such as cameras, turrets, certain locks, etc. Do not hesitate to abuse it, you will be able to discover certain secret passages or even turn certain combat situations to your advantage.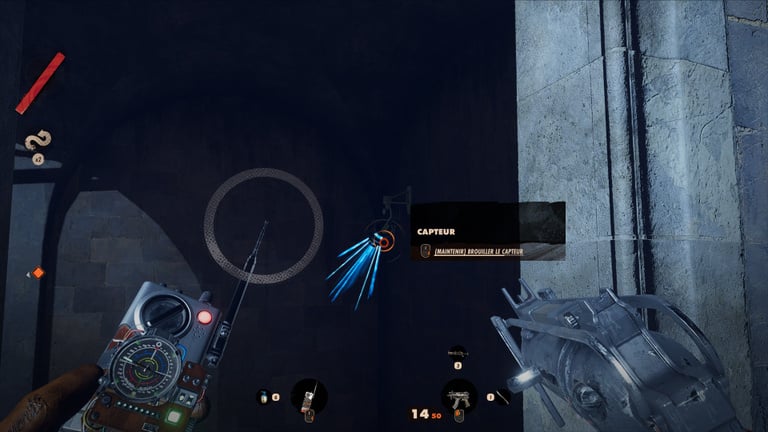 Exploration
Each district visited has very specific places often named to help you find your way around. Keep them in mind. Likewise, the game offers you levels with their set of verticality. Consider looking up to find a roof, a window or something else that gives you access to a building that seemed to be well closed. Look down as well, you may see a small light behind a rock indicating the presence of a potential cave.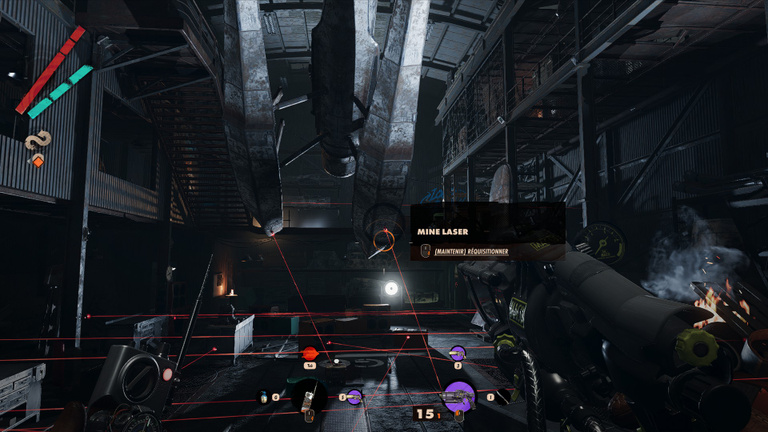 Premier Arsenal
In the second loop during the mission The longest day, you end up at Updaam. The central building, the Library, is full of weapons of all kinds very practical to help you at the start of the game. It is well guarded but the game is worth the effort. You will also find your first purple weapon, a silent nail gun that does more damage to enemies you mark, the PT-6 "Spiker". Very practical if you want to do a little infiltration and take your time to discover the first areas of the game. Library is only accessible in the morning. Use your Hackamajig to unlock the various weapon racks.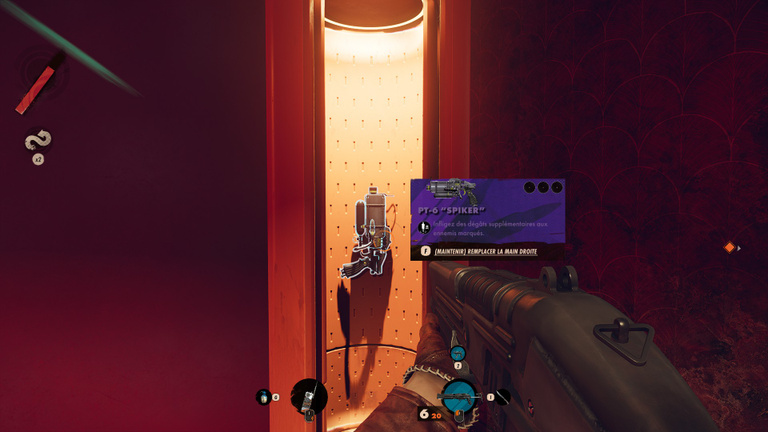 Scarcity
Weapons and charms, each color defines the rarity of the object and therefore also its power. Gray weapons are basic and tend to jam easily. The blue ones are a bit better and have an additional charm slot. Violets never jam, have three charm slots, and feature an affix that adds a little touch to the weapon. Gold weapons are unique and can only be found primarily by following certain Arsenal Tracks later in the game.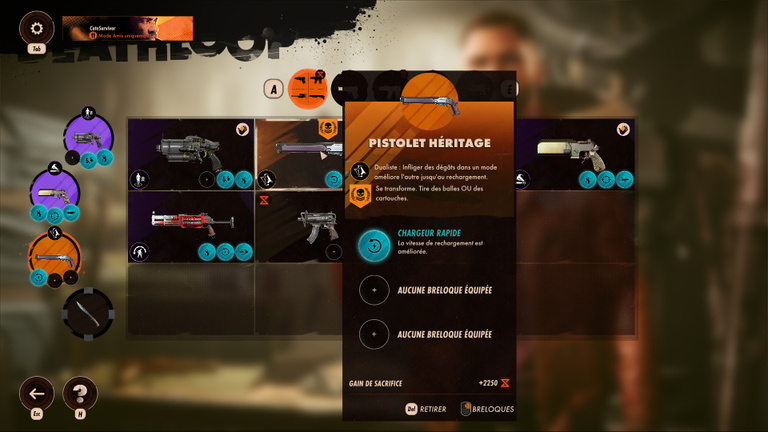 Marking
Mark your targets, all the time, as soon as possible. A marked target will give its position and allow you to fight or dodge more easily. Some weapon affixes do more damage to marked targets. Marking your targets is always beneficial.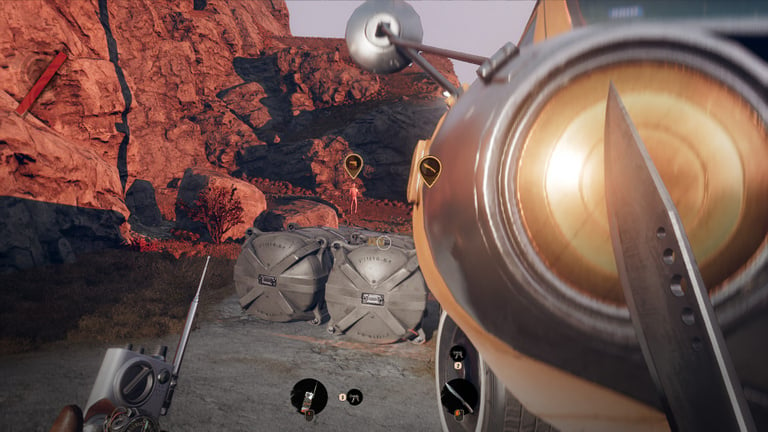 Ubiquity
Just after The longest day, you will have more choice in your movements in the different districts but also in your objectives. You can directly go hunting to try to Break the loop. Instead, go for the Ubiquity mission. Without it you will not be able to infuse your equipment.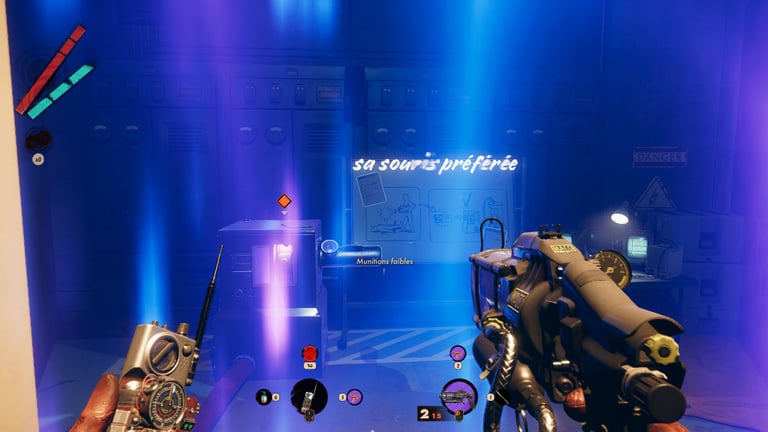 Infusion
Tired of starting over in the morning without equipment and rushing through the same puzzle over and over again to get that beloved little golden gun? The infusion is made for you!
Brewing is one of the most important mechanics in the game. By completing Ubiquity, you will be able to infuse any equipment. In doing so, Colt will remember what has been infused. Any infused object can be found in the inventory between each district, when choosing your equipment, even in the following loops whether you are dead or not.
Infuse basically lets you build up your arsenal of weapons, mods, charms, and more. that you can select at will between the different districts. a huge time and energy saver that rewards your time spent finding new jewelry.
In order to infuse an item you will need Residuum. The Residuum is a material that is obtained in several ways. Objects shining with a strange glow can be sucked in, the corpse of a visionary can also be sucked in to create Residuum. Finally, in your equipment between each district, you can sacrifice items that you do not use to create Residuum. You can then infuse your equipment between each quarter and only then. So be careful not to lose your life before you can brew your favorite gun.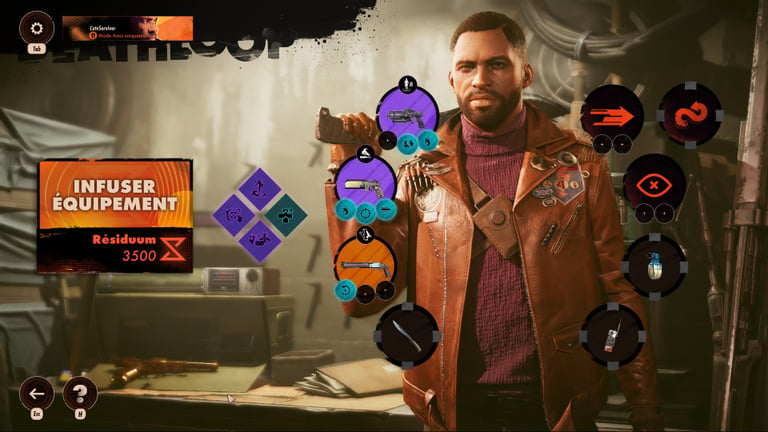 Summary of Deathloop Complete Solution