News tip Call of Duty Warzone, Prime Gaming September Rewards: How Do I Get Them?
As part of its partnership with Amazon's Prime Gaming, Call of Duty Warzone offers monthly freebies to subscribers of the service. In the following lines, we explain how to get them.
It's not just free games at Prime Gaming: there are also a large number of perks and bonuses to unlock in the free-to-play games of the moment, including Call of Duty: Warzone.
Each month Prime Gaming is giving away an item pack for online FPS players. Good news: Prime Gaming is included in theAmazon Prime subscription, free for the first 30 days and offering many other advantages: free delivery on Amazon, access to the Prime Video catalog, an included Twitch support subscription to give to a strearmer each month … These bonuses offered in Call of Duty Warzone are just one of the many advantages of the subscription, which is priced at € 49 per year. Here's how to get them if you're a subscriber to the program: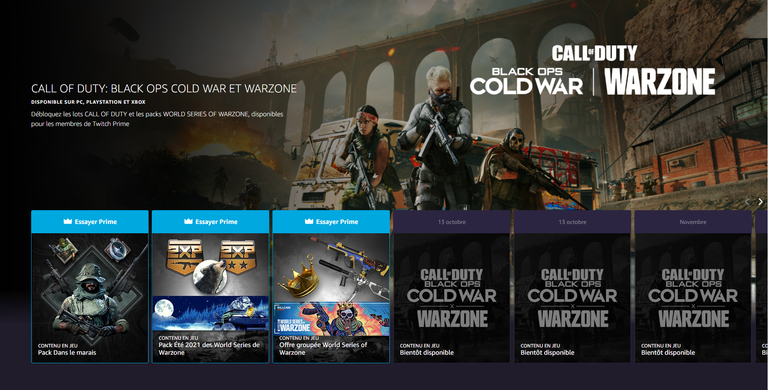 Go to the

dedicated portal

à Call of Duty Warzone de Prime Gaming.
Make sure your account is linked to the game by clicking on "Link a game account"
Click on "Go to Activision Publishing Inc"
Log in with your Activision account then your Amazon Prime account
Click on "Complete recovery", then all you need to do is start your game to collect your reward.
What are the Warzone September rewards?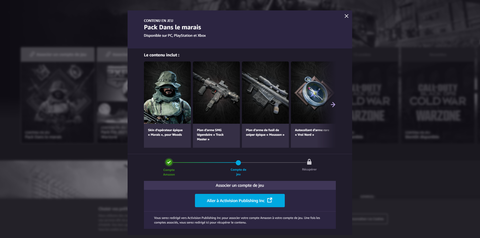 Pack In the Marais: Epic "Swamp" Operator Skin for Woods, Legendary SMG Weapon Blueprint "Track Master", Epic Sniper Rifle Weapon Blueprint "Monsoon", Rare Weapon Sticker "True North", Epic Emblem "Mud of swamp".
Warzone World Series 2021 Summer Pack: Epic "Stolen Crown" Business Card, Epic "Howl" Emblem, Double XP Token for 1 hour, Double Weapon Experience Token 1 hour.
World Series of Warzone Bundle: Red Ring, Reticle (Legendary), Tightrope, Finishing Move (Legendary), Blood Money, Weapon (Legendary), Hatchetman, Operator Skin (Legendary).
Summary of the Call of Duty Warzone Walkthrough