Game news Lost Judgment: Release date, news… We take stock of the Yakuza spin-off
Announced just a few months ago, Lost Judgment, the sequel to Judgment, is already about to hit the fist on our favorite gaming platforms. For the occasion, we invite you to take a tour of the promises of this new episode.
What release date for Lost Judgment? On which platforms?
It won't be long before you get your hands on Lost Judgment, as the title hits PlayStation 4, PlayStation 5, Xbox One and Xbox Series X | S on September 24 next.
---
This is the direct sequel to Judgment, right? Is there a new plot?
That's right ! In Lost Judgment, the player plays once again Takayuki Yagami, an ex-lawyer, who after leaving office, decides to make the law reign in the streets of Kamurocho with ex-yakuza Masaharu Kaito, his lifelong friend. This time, our two heroes will have to investigate a complex conspiracy case involving several factions. Once again, we can count on Yakuza Studios to tell us a story worthy of the name.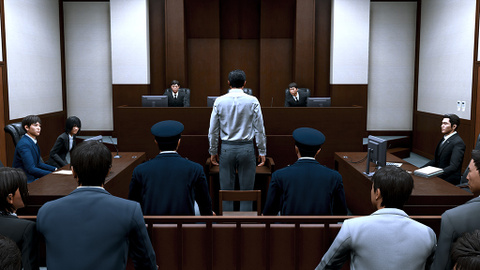 ---
Is this a spin-off from the Yakuza saga?
Indeed, Lost Judgment takes place in the same universe as the Yakuza saga. Moreover, the games share a common place: Kamurocho, a district inspired by Kabukichō in the city of Shinjuku.
---
What are the main novelties?
In addition to Kamurocho, in Lost Judgment players can now visit a second neighborhood: Yokohama. But that's not all … Takayuki Yagami also acquires a whole new combat technique. Yep, in addition to the Crane and the Tiger, the ex-lawyer can now hit opponents with the Serpent style. This martial art technique makes it possible to respond to enemies' attacks more savagely by using their energy against them. Also note that new gadgets are appearing and that the infiltration sequences have been improved.
---
Additional activities to plan?
Of course ! Like its mentor, namely the Yakuza saga, Lost Judgment is full of all kinds of activities. It is now possible to participate in boxing fights, dance, participate in motorcycle races and even go skateboarding. Best of all, players can even visit the game's arcade room to discover eight Master System titles: Alex Kidd in Miracle World, Fantasy Zone, Penguin Land, Quartet, Enduro Racer, Woody Pop, Maze Hunter 3- D, Secret Command.
---
Who overtakes Takayuki Yagami, the hero of Lost Judgment?
In the Japanese version, it is Takuya Kimura who lends his voice to Yagami and with regard to the English version, it is Greg Chun that sticks to it. Moreover, this version benefits from a solid cast since we find big names in the world of dubbing starting with Artt Butler (Mortal Kombat Legends: Battle of the Realms, Ghost of Tsushima) and Stephanie Sheh (Naruto, Sekiro) Shadows Die Twice).
---
DLC to plan?
Yes, and several even! On September 24, the game's launch day, players will be able to purchase the DLC Detective Essentials Pack which notably contains a selection of detective dogs, 4 SEGA Master System games (SDI, Alien Syndrome, Fantasy Zone II and Darius II), new skateboards and three romances (Tsukino Saotome, Minato Todo and Kyoko Hayase).
On October 26, the extension School Stories Expansion Pack will appear and this time will offer to try out many extra-curricular activities. It includes new motorcycles, additional races, new dance movements, new robots to build in the high school robotics club and above all a new combat technique. To finish, Lost Judgment will receive an additional chapter in the spring of 2022 which will allow you to take control of Masaharu Kaito to participate in a brand new campaign.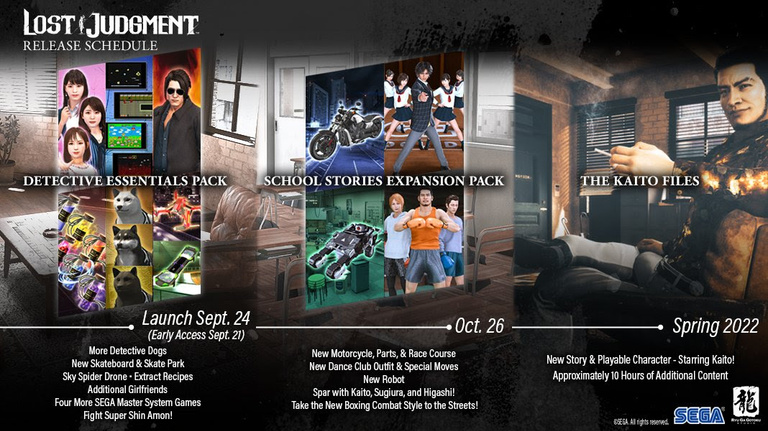 This page contains affiliate links to certain products that JV has selected for you. Each purchase you make by clicking on one of these links will not cost you more, but the e-merchant will pay us a commission.
Find out more.