News tip FIFA 22 / FUT 22: official ratings of Real Madrid's top players revealed
FIFA 22 is coming to consoles and PC on October 1st. The new edition of the famous football license reveals the ratings of its players in droplets. Today we unveil the ratings of the best Real Madrid players.
At each edition of FIFA, FIFA Ultimate Team mode, says FUT, of the game is unleashing the passions of many fans around the globe. FIFA 22 will probably not be left out this year, as its release on consoles and PC is expected September 27.
The must-have multiplayer component of EA Sports' football simulation will of course be there this year. and the developers' choices regarding the balance of the game and changes in player ratings have already started to create much controversy within the community. And precisely, we reveal below, the ratings of the best players of Real Madrid:
Ratings of the best Real Madrid players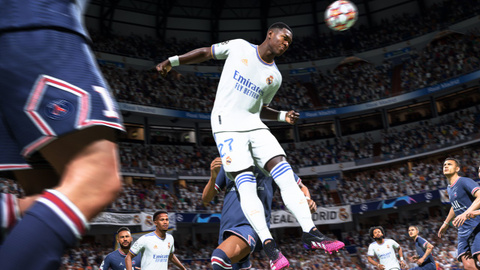 With 89 in general, Thibaut Courtois, housemour and obviously the captain of Real Madrid, Karim Benzema, dominate the ranking of the best players of Casa Blanca. Seeing the France team striker stagnating at 89 since FIFA 21 seems rather curious. His season in the league, which is excellent on an individual level, and his more than convincing Euro (despite elimination in the eighth) could have justified a higher score.
Two notable increases are those of Marco Asensio and Eder Militao which pass respectively from 82 to 83 and of 80 to 82. At the same time, Dani carvajal, extended by three years despite a more than delicate 2020-2021 season logically goes from 86 to 85.
A word also for the newcomer to Santiago Bernabeu, Eduardo Camavinga. The French author of his first goal with Real Madrid last weekend from 76 to 78 this season, despite a more complicated second season at Stade Rennais. And despite its precocity, his young age does not yet allow him to pass the symbolic bar of 80 overall.
FIFA 22 Walkthrough Summary