News tip FIFA 22 / FUT 22, notes: Chelsea, Kanté or Lukaku, who is the best player on the team?
FIFA 22 is coming to consoles and PC on October 1st. The new edition of the EA Sports football simulation gradually reveals the scores of the players. Today we unveil the ratings of Chelsea's top players.
A few weeks before its release, FIFA 22 is already unleashing the passions of many fans around the world. Each year, the adjustments and changes made by EA Sports, are talked about in the community, for good and bad.
One of its constant adjustments is player ratings. Varying from year to year, players are particularly keen on these ratings. They are of utmost importance when starting your first FUT game and building your team. In the lines below, we unveil the ratings of the best players in Chelsea :
Ratings from Chelsea's top players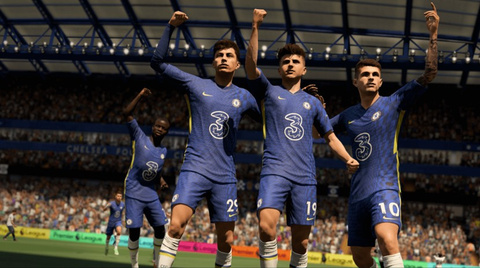 Romelu Lukaku made his comeback to Chelsea with a much higher status than his last stint at the club, strong of his title of top scorer in Serie A with Inter Milan. However, he is not the best rated player among the residents of Stamford Bridge. It is the honor of N'Golo Kanté who with 90 overall, ahead of Lukaku by two points, the one being "only" 88.
In the rest of the team, it is also a French who knows the biggest progression. The Guardian Edouard mendy, earns four points, from 79 to 83, while Jorginho, newly elected UEFA player of the year, and Mason Mount have both progressed by 83 to 85 and of 80 to 83.
In the other direction, Timo Werner, Kai Havertz and Hakim Ziyech all three had a roller coaster year 2020-2021 for their first season with the Blues. Their performances were far from the expectations and the sums invested by the club. They will certainly hope to make the critics lie, but in the meantime, their marks go from 85 to 84 overall.
FIFA 22 Walkthrough Summary