Game news Cyberpunk 2077: Update 1.31 released, here's what changes
While waiting to give us a release date for the next-gen versions and a timetable for the arrival of the first expansion of Cyberpunk 2077, CD Projekt continues its work and has just rolled out a new update for the title.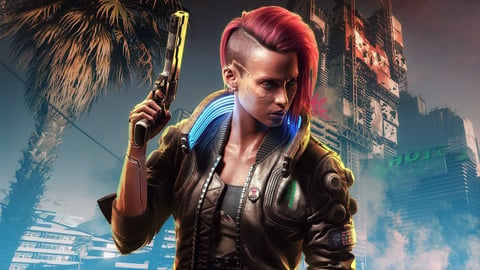 Cyberpunk 2077 update 1.31 is therefore available now on all media. A lot lighter than the previous ones, she focuses on some gameplay tweaks and some bugs fixed. For example, the height of the loaded jump has been fixed, enemy detection speed has been readjusted based on difficulty level, while a bug slowing weapon reloads when a reload perk was activated has been fixed. For the rest, here is what changes this Cyberpunk 2077 update 1.31 :
Gameplay
Fixed a bug where the base version of an item with a quest indicator was not removed from inventory after upgrading the item.
Fixed a bug where weapon reload speed perks slowed reloading.
Fixed the height of the loaded jump.
Adjusted the speed of enemy detection in stealth mode depending on the difficulty of the game.
V will no longer get stuck on the fall animation after a motorcycle crash with the "Like a Rock" perk active.
Quests and open world
Disasterpiece
Fixed a bug where Judy would not appear in her van on Jig-Jig Street.
These Boots Are Made for Walkin'
Fixed a bug where the Thorton Galena "Rattler" would not appear in the quest area. The Thorton Galena "Rattler" will no longer become invulnerable after completing the quest.
Beat on the Brat
Fixed a bug where the quest could reactivate with the objective "Go to Final Battle" on saves made with version 1.22 of the game.
With a Little Help from My Friends
Fixed a bug where the objective "Wait for the nomads" could remain displayed on the screen long after the player arrived at the intersection.
Fixed a bug where it was impossible to interact with nomads to talk about the plan.
The nomad
Fixed a bug where the player's car could get stuck between a roadblock and a slide, preventing them from re-boarding and blocking their progress.
Visual
Fixed a bug where roads after rain did not look wet, caused by work in progress on the wet surface system. In version 1.31, wet surfaces should be more detailed than even before the bug appeared.
Removed hair and / or eyebrows if they had been disabled in previous versions of the game.
Fixed a bug where firing a tech weapon would cause a momentary dazzling glow.
With a Little Help from My Friends: Fixed a bug where Carol did not have her tablet or was sitting on air during a scene.
IU
Added missing descriptions in overheat and short hack quick hack tooltips.
Added missing descriptions of Backpacker, Resist !, Osmose and Footloose clothing modules.
Divers
Fixed a bug where players could not collect in-game registration rewards due to the error: "A network error has occurred. Try Again. "
Console-specific changes
PlayStation: Video memory optimization.
This page contains affiliate links to certain products that JV has selected for you. Each purchase you make by clicking on one of these links will not cost you more, but the e-merchant will pay us a commission.
Find out more.