News tip NBA 2K22, guide: the first locker codes are available
While NBA 2K22 has been available on consoles and PC for a few days, the traditional lock codes of the game are being revealed. We detail the first 2K Games basketball simulation locker codes below.
MyTeam or MyPlayer modes are among the most popular NBA 2K22 game modes. And to progress you need VC (Virtual Currency), the currency making rain and shine in the basketball simulation. Collecting these VCs allows you to use them to unlock more and more important content as you progress.
But these items can also be unlocked using cloak codes. These unique codes will give you packs ranging from simple cosmetic items to player packs. Most of these locker codes have an expiration date and below are the first ones revealed by 2K Games:
To enter the locker codes, go to the MyTeam menu from the main menu.
Then click on the icon Settings / Options, then on Cloakroom codes.
Now enter your code, uppercase or lowercase, without forgetting the dashes.
NBA 2K22 locker code list
HAPPY-NEXTGEN-2KDAY-22 : Unlocks three banners, a 30-minute double XP token, a new player indicator, and a new shooting animation (expires September 15).
WELCOME-TO-MYTEAM-CALL-TO-BALL : Offers a Colossal Deluxe Pack, five Gold Shoe Boosts, five Gold Shoes, and a Draft Ticket (expires September 18).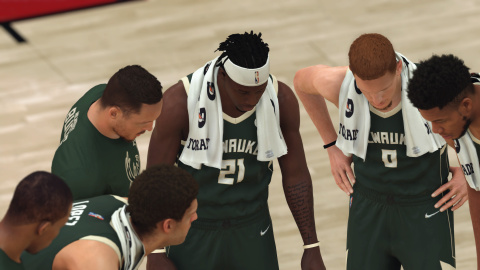 To read also:
NBA 2K22 Walkthrough Summary