News culture Marvel Studios: Disney's superhero branch specifies MCU schedule, 7 unreleased films by 2024
In addition to the Marvel series which have recently accompanied us, and which will accompany us in the future as we discussed today with Hawkeye, the Marvel films are also resuming service. During the past three months, Black Widow and Shang-Chi have entered theaters to the delight of superhero and comic book lovers.
By November, it will be the turn of The Eternals to come and represent Marvel Studios in theaters around the world. The film, directed by Oscar winner Chloe Zhao (Nomadland), will be quickly relayed by Spider-Man : No Way Home, a new component that is already fueling the wildest theories and hopes of spectators, in December.
However, in this sustained ballet of Marvel releases that will close the year 2021, Disney wanted to put things right by dusting off its release schedule for the next three years. A little reminder, at first, to return to the exits of Doctor Strange in the Multiverse of Madness, Thor : Love and Thunder, Black Panther : Wakanda Forever and The Marvels which will be done, respectively, in March 2022, May 2022, July 2022 and November 2022.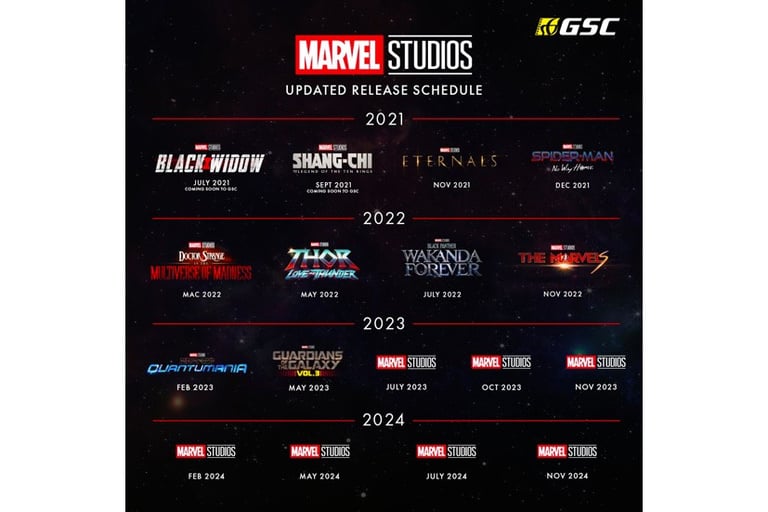 An already busy year but not as much as the next one which promises to be even richer in superheroes and in still unknown and mysterious projects! If the films Ant-Man & The Wasp : Quantumania and Guardians of the Galaxy vol.3 have already been talked about and that their release dates are set for February 2023 and May 2023, Marvel Studios are keeping three unreleased projects that we know nothing about at the moment, except that their release windows are set for July 2023, October 2023 and November 2023.. For a total of five films, just for the year 2023.
As for 2024, it may be as busy as the year ahead since four other projects lie dormant at Marvel. No revelation for the moment about the superheroes who will be headlining but the traditional annual distribution which follows, more or less, that of 2022 with the months of February, May, July and November as targets. Finally, So these are seven unreleased films that are about to feed the MCU (Marvel Cinematic Universe) for the next three years!