Game news God of War: Kratos and Atreus are heading for the PC? Clues spotted at NVIDIA
The God of War license was certainly one of the most anticipated games at last Thursday's PlayStation Showcase. The game, which will be released on PS4 and PS5, punctuated the last minutes of the Sony conference, relaunching, in passing, the desire to go on an expedition alongside the two protagonists.
Unfortunately, this desire to explore again the northern lands of Midgard or the different accessible kingdoms of the game, such as Muspelheim and Nilfheim, had until then been reserved for a very specific caste of players, namely players PS4. The "until then" is in order since it seems that the adventures of Kratos and his son Atreus are about to benefit from a port in due form on PC.
A news that follows Sony's desire to publish some of its exclusives on PC, as evidenced by the acquisition of Nixxes Software or the arrival ofUncharted : Legacy of Thieves Collection on PC at the same time as on PS5. There is no shortage of potential candidates for Sony, however a recent discovery within the NVIDIA GeForce NOW database.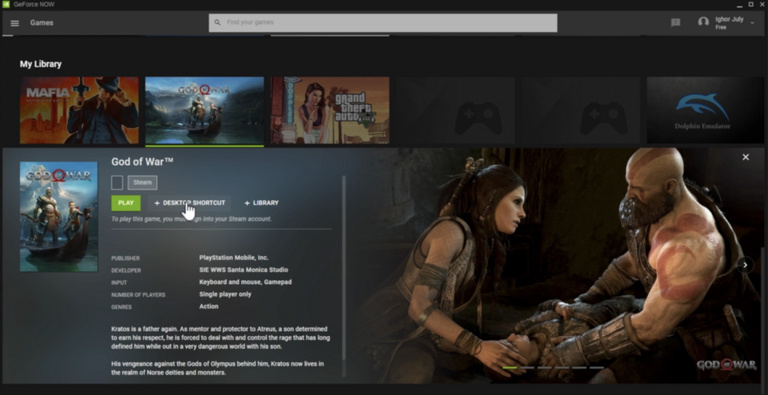 As the site mentions Wccftech, it is the user Ighor July who notably managed, using a specific manipulation, to access certain information from the NVIDIA database indicating, in passing, an availability on Steam. A surprising find, certainly, but not so much given the recent announcement of God of War : Ragnarok (which we can definitely call that now) and its release next year.
Horizon : Zero Dawn also suffered the same fate a few months ago and in particular allowed the franchise to offer itself a wider visibility before the release of its second part. However, nothing confirms for the moment the imminent arrival of God of War on PC and this illustration and the discoveries of Ighor July are, of course, to be taken with a grain of salt.. Patience remains in this story, but let's keep an eye on the evolution of this case.