Game news Fortnite Event: the game is still closing its doors!
Epic Games has once again offered a high-profile event for the end of Season 7 of its hit Battle Royale.
If season 6 of Fortnite was not entitled to it, season 7 of Chapter 2, it ends with a new event that took place tonight, and which furiously recalls the one who had led to the closure of the servers for several days. We will explain everything to you.
Aliens, a flying saucer and your bombs!
During the Operation Feu Celeste event, Epic Games has once again brought the storytelling universe of its Battle Royale to life. Since the beginning of season 7, aliens have indeed decided to settle above the island of Fortnite, collecting in the process a certain number of objects and buildings, and sometimes even a few pieces of land.
To avoid that they end up taking everything, and especially that they monopolize the famous Point Zero (the same one that had exploded the island at the end of the first chapter), the owners of the place therefore send you to accompany bombs, hanging from pieces of the area. As you can see in our gameplay video above.
The Cube is back!
A new time, players must therefore cooperate to avoid the worst … before suffering the betrayal of their leader! As you have completed your operation, you learn that you will not be saved … until the purple Cube that had roamed the island for many weeks during Chapter 1 does not appear.
But with a turnaround worthy of the best Hollywood movies, you end up converting it into a Blue Cube, before finding that many more Cubes have been swallowed by the saucer. Before they can do anything, the alien ship explodes, and crumbles. At the end of the event, you are propelled into the void … to take a fuselage right in your nose, losing consciousness in the process.
And that's all. Servers Fortnite then make an appointment in a dozen hours for the rest of the events, and as for the Black Hole, it is no longer possible to access the game until the launch of Season 8 of Chapter 2. We will have to be patient …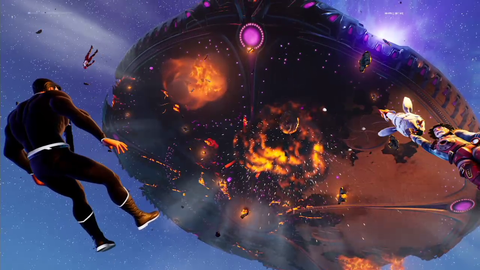 By the way, Epic Games has started to teaser what appears to be one of the skins of Season 8 of Chapter 2 …
Summary of our complete guide to Fortnite Battle Royale