Good plan news Hogwarts Castle: the giant LEGO Harry Potter on sale
One of the biggest LEGOs on the market is currently on sale at Zavvi! With a discount of 110 €, the legendary Hogwarts Castle is offered at the best price on the market. If you too dream of joining the witchcraft school, this LEGO will at least allow you to admire it.
Hogwarts Castle is part of one of the most important building sets from LEGO. Authentically and faithfully representing the major location of the Harry Potter saga, this construction set is currently available for less than € 340 at Zavvi, an excellent price for a collector's item that will delight fans of the series!

Hogwarts Castle takes place in the Harry Potter film and book saga. It's even the main location where a lot of intrigue and most of the adventures of young Harry and his friends Hermione and Ron take place.
This castle was founded over a thousand years ago by four exceptional wizards: Godric Gryffindor, Helga Hufflepuff, Rowena Ravenclaw and Salazar Slytherin. And this in order to protect witches and wizards at a time when Muggles (people who do not have magical powers) persecuted them.
They thus founded a place where sorcerers could find protection, help and above all, a place where they could teach their knowledge and thus pass it on to new generations.
This place, highly protected by magic, cannot be found by Muggles. It teaches about defense against the forces of evil, the preparation of potions, the behavior of magical creatures, botany, spells and much more.
And, this is what this construction set, which contains no less than 6,000 pieces, wishes to represent.
You will find famous places such as the Whomping Willow, the Great Hall or the Chamber of Secrets. As well as many characters from the saga!
Usually offered around € 450, it is currently available for less than € 340 at Zavvi!
Hogwarts Castle: its towers, its classes, its contents
Measuring 58 cm high, 69 cm wide and 43 cm deep, it is a magnificent collector's item that will gracefully take center stage in your interior.
In this construction set, we find in particular:
4 minifigures with their buildable display: Godric Gryffindor, Helga Hufflepuff, Salazar Slytherin and Rowena Ravenclaw
27 micro figures of the most famous characters from the Harry Potter saga
Hagrid's Hut, as well as Aragog and Pumpkins
The Whomping Willow and the blue Ford Anglia of Mr. Weasley
And many other elements!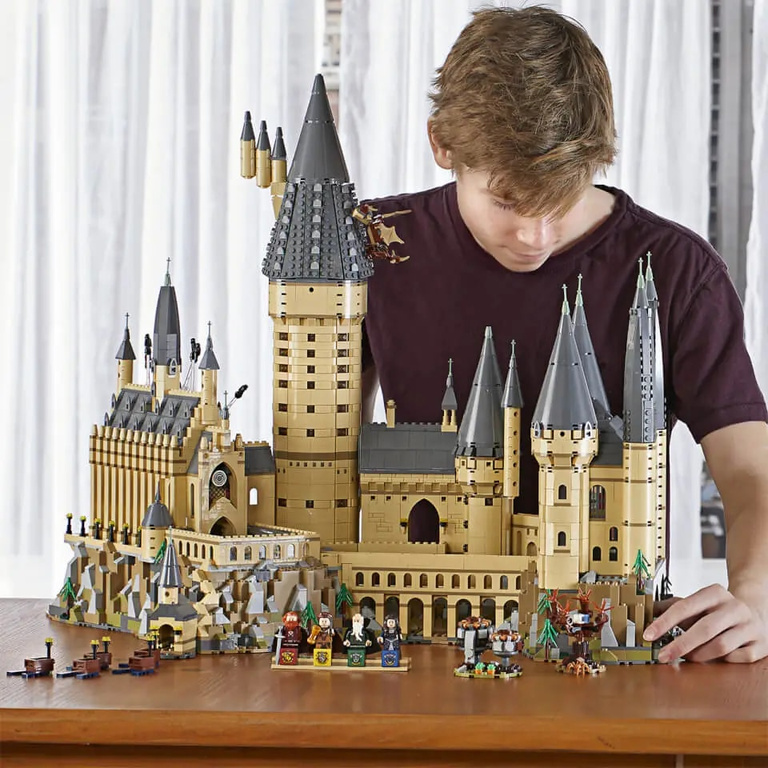 ---
This page contains affiliate links to certain products that JV has selected for you. Each purchase you make by clicking on one of these links will not cost you more, but the e-merchant will pay us a commission.
Find out more.