Game news Are gamers fed up with GTA V?
Presented during yesterday's PlayStation Showcase, the latest trailer for Grand Theft Auto V on PS5 suffered an unprecedented wave of dislikes for the series, on YouTube.
The GTA saga is not only popular, but also famous within the gaming world. Having become cult over time and with the various episodes, it can boast of receiving number of praise, and for a long time suffered less and less criticism for its themes and its violence.
An umpteenth version of GTA V that no longer excites?
However, other criticisms have been raised against Rockstar in recent years against the multiplication of versions and re-releases of GTA V on many platforms. And this new version PS5 may have become the straw that broke the camel's back …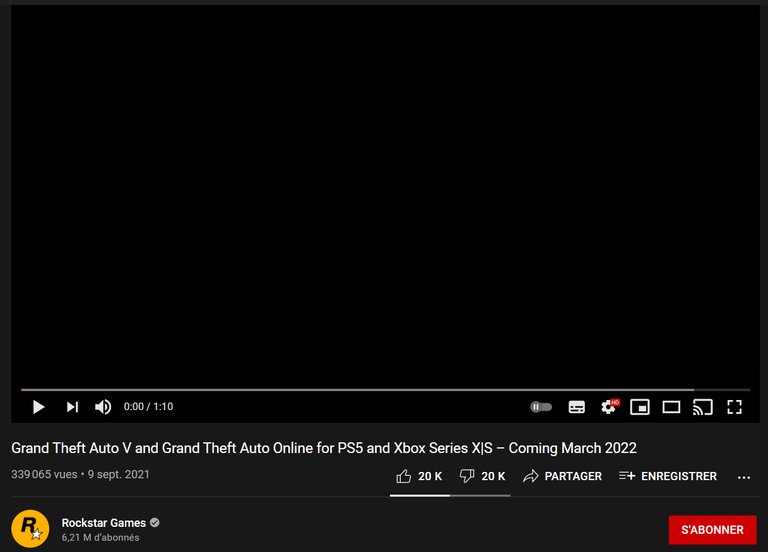 On the Rockstar channel, there are as many likes what of dislikes, which is already a very negative result. This video shows the PS5 / Xbox Series version. On the PlayStation channel, which obviously only announces the PlayStation 5 version, there are only 12,000 likes against 20,000 dislikes. Combined, these two videos therefore display 40,000 negative reviews against 32,000 positive opinions.
Among the comments, we note many players disappointed with the visual aspect, arguing that the PS5 version would bring nothing or little improvement compared to the PS4 Pro version. You can read comments such as:
Rockstar becomes what they would normally have parodied. (WanteD1)

Person: / Rockstar: We improved the switch between characters (Jaap Stamina)

Imagine being excited to play the same story, three generations of consoles in a row … Imagine how Rockstar must have been excited to think that this is THAT the fans were asking for … (…) So you put in some leaves and put in a deer, and that's it? (Want a drosche)

Is it really expanded and improved? It doesn't look no different from the PS4 version. They even showed the Deluxo at the end, blowing people up, although a bunch of players hate futuristic vehicles. (TheProfessional)
The majority of disappointed players regret above all that Rockstar does not move on. They are fans of GTA V, that is not the problem. But what they want is news from GTA VI, new Rockstar games … they want see the editor finally move on.
Figures to qualify
Obviously, this wave of dislikes is to qualify. First, we must remember that GTA V continues to break records in sales, spending records in Online mode, "repurchase" records for new iterations of the title … Then, note that the panel is very small : these are the players involved in the video game, those who have watched the PlayStation Showcase, those who make the effort to go to the YouTube channel of a builder or publisher, and leave a review. We are talking about players much more engaged than the tens of millions of players who play GTA regularly. He This is "only" 40,000 negative reviews out of 72,000 reviews in total. We can in no way qualify this fringe of players as "representative", but a specific community within the large community of players.
GTA V will be released for PlayStation 5 and Xbox Series again in March 2022.